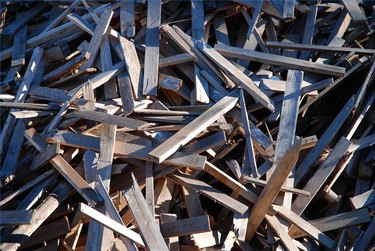 A shim is a small piece of wood that can help you level cabinets, windows and doors. It's a simple tool to use--simply wedge it in. Wooden shims are relatively inexpensive, but you can save money and reduce your scrap woodpile by making them yourself.
Step 1
Determine the thickness needed for your shim. If you're unsure, make several thin shims and stack them.
Step 2
Pick out a piece of scrap wood. Because of a shim's size and function, the type of wood you choose isn't very important.
Step 3
Even out the edges of your scrap piece of wood by cutting around it with your jigsaw. A shim can be as wide or long as needed. Use a sturdy piece of wood and cut with the grain if you plan to use the shim on a door, window or anywhere else a nail might split it.
Step 4
Create an inclined plane so the shim easily slides under the object you need to level. To do this, turn the shim on its side and slowly cut away to make a tapered edge.
Step 5
Store your shims together so they're easy to find and won't become mixed with your scrap woodpile. Choose a storage location that's dry; wooden shims can warp if they get wet.
Tip
If you need to make many shims of the same size, consider making a shim-cutting jig to use with a table saw.