Things You'll Need
Mild soap or detergent

Heavy scrub brush and sponge

Oil-based priming paint

Paint thinner

Acrylic latex exterior house paint

Paint brush or roller with paint tray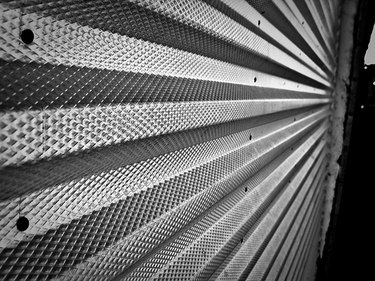 If your aluminum garage door's factory-painted finish has faded or has areas where the paint is completely worn, it's time for a new coat of paint. Painting aluminum doors is relatively simple. You will save a lot of money by painting the garage doors yourself rather than hiring someone. Painting aluminum is a slightly different process than painting an interior or exterior wall, so use paint designed to adhere to aluminum.
Step 1
Apply a mild soap or detergent with a scrub brush and sponge, thoroughly washing the entire surface of the garage door. Be sure to remove all loose paint chips and other debris. Allow the garage door to dry for at least 24 hours before continuing.
Step 2
Apply a coat of thinned-down oil based priming paint. The recommended mix is one pint of paint thinner for every one gallon of oil-based primer. Allow the primer to dry for 24 hours.
Step 3
Apply an exterior coat of paint in the color of your choice. Acrylic latex exterior house paint works best. Allow the first coat to dry completely before determining whether a second coat is needed. If you can see blotchy areas, or can see the aluminum underneath the first coat of paint, paint another coat on the garage door. Continue this step until there's a smooth, consistent finish.
Tip
Cool, overcast days are the best for painting aluminum.
You may want to spread out a layer of newspaper on the ground below the door to avoid getting any unwanted paint on your garage floor or driveway.
Warning
You should not paint aluminum on windy days as this causes the paint to dry faster. The finish paint needs to dry slowly for the best results.