Things You'll Need
Pencil

Flat and Phillips head screwdriver (if needed)

Allen keys (if needed)

Trim wood (if needed)

Saw (if needed)

Drill (if needed)

Clear sealant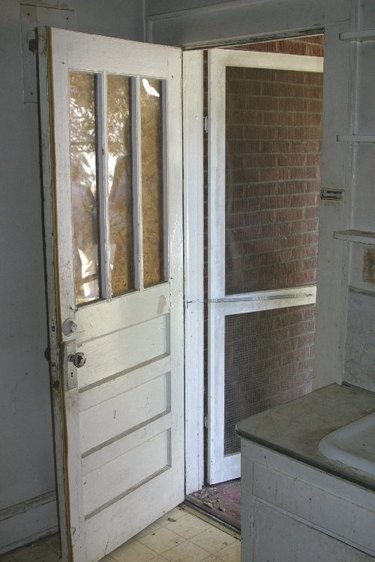 Most steel storm doors warp because the top or bottom has been kicked or wedged repeatedly to hold them open and this can be easily repaired. Heat can also cause a more serious warp, but you can repair that as well. A steel storm door that was warped because it was struck will usually need to be replaced.
Step 1
Determine which part of the door (top or bottom) strikes the door jamb first. Once you know this, open the door slightly, hold a pencil between the part of the door that strikes first and the door jamb and firmly close the door. Wait 30 minutes and then check the door again, the pencil may have caused enough reverse pressure to undo the warp in the door. Repeat this step if the warp begins to straighten but not completely straighten. If the warp is too severe, go to the next step.
Step 2
Remove your door from the hinges. Depending on your door and the hardware, you may need a Phillips or flathead screwdriver, or an Allen key to do so. Lay the floor flat on the ground.
Step 3
Remove the side screws that hold the edging of the steel frame in place and remove the edging. You will see that there is wood lining the inside edge of your steel door. This wood has acquired the warp from the metal of the door which is why it will not straighten. If there are any locks or handles that pass through the wood, remove them as well.
Step 4
Pry the wood out with a flathead screwdriver. Measure and cut to fit from your new wood piece and replace it in the edge of your steel door. Duplicate any holes needed to fit the locks and handles and reinstall them as well. Replace the edging.
Step 5
Apply a thin bead of clear sealant to every seam in the door to prevent humidity and other damp weathers from effecting the wood inside your steel storm door. Rehang the door on its hinges and you are done.
Tip
Even if you repaired the warp in your steel storm door in Step 1, take the time to apply a thin bead of sealant to every seam on the door (where metal meets metal). This will help prevent damp weather from damaging the wood inside the door, and help keep wind and cold from coming in through the door to your house.
Warning
Exercise caution when removing the edging on steel storm doors. The metal edges will be sharp and you can easily cut yourself.