Things You'll Need
2-qt. casserole dish

6 to 8 medium-sized yellow squash

1 medium onion

Large pan

1 tbsp. vegetable oil

1 tbsp. butter

Colander

Mixing bowl

1 egg

1 cup grated Cheddar

1/2 cup grated Parmesan

1/2 cup sour cream

Salt and pepper

1 sleeve of crackers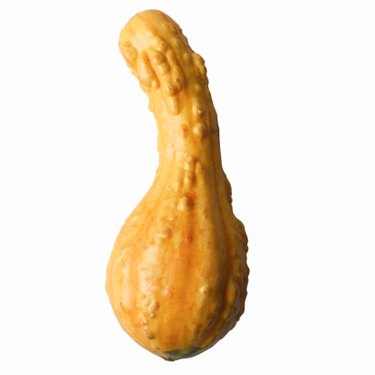 A traditional Southern comfort food, yellow squash casserole makes good use of this abundant summer vegetable. Ideal recipes for this dish result in tender squash with slightly browned, bubbly cheese. For a traditional Southern meal, serve this casserole with fried chicken and green beans. Alternatively, you can serve it with turkey or ham with broccoli, okra or sliced tomatoes. Requiring only 10 minutes of preparation time, this recipe is quick and easy.
Step 1
Preheat your oven to 350 degrees Fahrenheit and grease your casserole dish.
Step 2
Slice your squash and onion into thin slices.
Step 3
Heat the oil and the butter in your large pan. Over medium heat, saute the squash and onion until they become tender.
Step 4
Drain the squash and onion in a colander to remove the excess oil and moisture.
Step 5
Beat the egg in your mixing bowl. Add the cheddar, Parmesan and sour cream and season the mixture with salt and pepper. Stir in the sauteed squash and onion.
Step 6
Pour the mixture into your casserole dish.
Step 7
Crush the crackers into medium-sized bits. Sprinkle the crumbs on top of the casserole and bake for 20 minutes.
Tip
Use a Vidalia onion to get a more authentic Southern squash casserole. For a fancier version of this recipe, use ricotta and goat cheese in place of the cheddar. To substitute bread crumbs for the crackers, use 1 1/2 cups of bread crumbs.