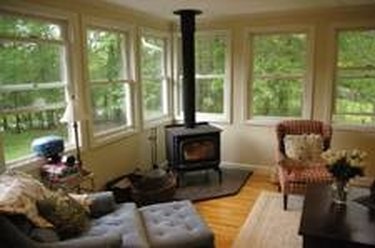 Using a porch as an addition can be an inexpensive way to add living space to your home. The location of the porch and how it is accessed from the house will determine how the porch can be repurposed. All of these ideas for using your porch as an addition are for enclosed porches. If you have open porches to work with, consider hiring a contractor to turn the porch into a room, or do it yourself.
Step 1
Transform a side porch into a potting room and greenhouse. Replace the walls with windows and build potting tables and shelves for plants. Include storage for tools and add a sink.
Step 2
Turn a front porch into an informal entryway into your home by making it into a sun room. Enlarge the windows and decorate the room with wicker furniture, colorful cushions and large plants.
Step 3
Create an exercise room in a rear porch. Install your exercise equipment and leave an area for a yoga mat and aerobics. Use an exterior door for quick access to a pool or spa.
Step 4
Enclose a porch that's attached to a bedroom and change it into a sitting room, dressing room or walk-in closet. Decorate a sitting room with comfortable chairs and use it as a getaway. Install mirrors in a dressing room. Use shelving systems to create a closet.
Step 5
Add a bedroom to your home by using a porch that's attached to an indoor hallway or common area. Create privacy by covering the windows from the house that look out onto the porch.
Step 6
Use a large porch as a family room. Carpet the floor and incorporate blackout curtains into the design for movie nights in the family room.
Tip
Porches frequently have slightly sloped floors to direct moisture away from the house. Check your porch floor to see if this will create problems.