Things You'll Need
Tape measure

Pencil

Power miter saw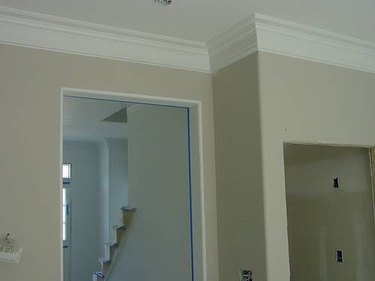 Getting the corner miters right on crown molding isn't difficult, but it can be confusing. Generally, you need two 45-degree cuts to equal the 90-degree angle of a corner, and you need to make sure the cuts are going in the right direction and on the right ends of the wood. One way to simplify things is to cut your corner angles first, then measure and cut the other ends of the trim to fit the walls. That way, you can concentrate on making sure you've got the angles right without worrying about whether the length is also right.
Step 1
Measure from the outside corner in both directions, to get the lengths of the two walls. Choose two trim pieces that are at least 1 foot longer than each of those lengths.
Step 2
Set the piece for the left wall onto your saw, on the right side of the blade (from your perspective, as you're facing the saw from the front). Position the piece face-up, with the bottom edge facing the guide fence of the saw, and top edge facing you.
Step 3
Set your miter angle at 45 degrees to your left, so the front edge of the saw is pointing away from the molding that's sitting to the right of the blade. Hold the piece in place and make the cut near the end of the board.
Step 4
Cut the angle for the right piece by reversing the setup. Put the piece on the left side of the blade (again, with the bottom edge of the trim facing the guide fence and the top edge facing you). Swivel the miter setting to 45 degrees pointing right. Make the cut near the end of the piece.
Step 5
Proceed to measure and cut the other ends of the pieces to fit on their walls. Make sure that when you transfer the measurement from the wall to the molding, you're measuring on the back and bottom of the trim, from inside the shortest part of the cut.
Tip
For inside corners, everything is the same, except the miter angles will be pointing in the opposite directions as laid out here (toward the trim, instead of away from it). Also, inside corners are likely to have minor variation in the 90-degree angle, and often require back-cutting some of the molding from miter with a coping saw to get them to fit properly.
Warning
Wear eye protection when using your miter saw.