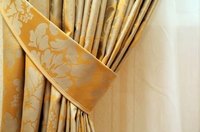 Curtain tiebacks are versatile, decorative elements that can be used in many different ways to help establish a style in a room. Because a curtain tieback can be made of almost any flexible material, the options for how to use a tieback expand greatly. Gone are the days when rope and tassels were the only acceptable choice. In today's modern homes, it is possible to use steampunk jewelry in a bedroom and raffia in a living room. Either can enhance the room and add the personal touch that transforms a room from typical to unique.
Things You'll Need
Tieback posts
Scarves
Jewelry
Belts
Curtain and accent fabric
Rope & tassel tieback
Safety pins
Raffia
Use curtain tiebacks with formal traditional draperies by positioning the tieback post two-thirds down from the top of a standard window. Restrain the draperies with a curtain tieback made of the same fabric as the draperies or the traditional rope and tassel design.
Use curtain tiebacks to reduce the formality of traditional draperies by restraining the draperies using contrasting material that picks up accent colors in the room's décor. The more unusual the tieback material, the greater impact the tieback will have.
Use curtain tiebacks with the posts mounted at one quarter distance from the top of the window to create a theatrical effect. Pin the curtains together with a safety pin through the back of the curtain and use a theatrical metallic fabric as the tieback. Pick up on the metal finishes being used elsewhere in the room, such as bronze or brushed nickel.
Use curtain tiebacks with a post mounted above the window in the center. This is particularly good for arched top windows. Position two other tieback posts to either side of the window near the top. Make sure the drapery reaches the floor. This dramatic double-swagged look can be both formal and informal. Secure your tieback to the central post firmly by either tying the fabric around the post or pinning from the back. The side posts should be at sufficient angle that the curtain tiebacks will hold the draperies in place.
Use curtain tiebacks with two tieback posts, one above each top corner of a window. This window treatment works beautifully with casual scarves and swags when bracelets or doubled faux-pearl necklaces are used as the curtain tieback material. This type of treatment adds whimsy to a girl's room or to a master bathroom. Use jewelry that isn't likely to rust.
Use curtain tiebacks in a family room or den that has a masculine flavor by dressing down solid color drapes using old leather belts. Use a plain curtain tieback post or wrought iron style and tie the belts if they are pliable enough. This is best for curtains that are not regularly opened or closed. Make double loops for tiebacks that open and close daily.