Things You'll Need
Tape measure

Pencil

Level

Razor knife

Putty knife

Patching plaster

Can of flat white spray paint

Enough peel-and-press linoleum tile to cover the wall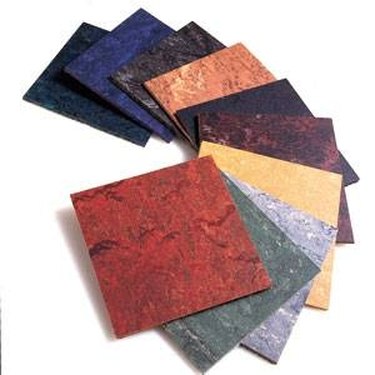 Peel-and-press linoleum tiles are made for floors, but there's no reason you can't cover a bathroom wall with them. It's an easy, inexpensive way to dress up a plain wall, and can be done in one afternoon. It does take a little added preparation, since walls generally aren't as flat and solid as floors. You'll want to avoid doing this on any wall that has a lot of waves or ridges that can't be smoothed out. You'll also want to avoid the shower area or other areas that will get direct water.
Step 1
Start with a clean, flat wall free of obstructions or significant ridges. Remove the plates of any electrical sockets of switches. Scrape the surface with a putty knife to smooth it out, and use plaster to patch any holes or depressions. Then cover the whole surface lightly with a flat latex spray paint to seal it and provide something for the linoleum to stick to.
Step 2
With your tape measure, level and pencil, divide the wall into four even squares with two intersecting lines, vertical and horizontal.
Step 3
Working one square at a time, peel and press the first tile into place at the intersection of the two lines, so that it's bordered by both of them. Press the other tiles into place, building off the first one and using the lines as guides. Make sure to press firmly and evenly. Lay as many full tiles as will fit on the wall.
Step 4
For edge pieces, measure the size of the piece needed, transfer the measurement to a piece of tile, and cut it with your razor knife, running it along the level to get a straight line.
Step 5
For electrical outlets, measure the position of the outlet from the top and side of the space, then transfer that measurement to a tile and cut the rectangular opening with your razor and level. (The opening should be a little bigger than the socket itself and smaller than the socket plate.) For tricky cuts around fixtures, make a paper template, then trace the design onto your tile and cut it freehand with your razor.
Warning
Use caution when cutting with a razor knife.