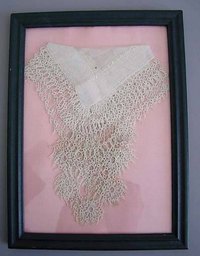 The art of the handkerchief has gone the way of Kleenex and throw-away tissues. However, tucked away in your grandmother's drawer or your mother's hope chest there may be some of these priceless treasures. Many handkerchiefs or "hankies" from the 18 and 19th century have beautiful embroidery and designs on them and are suitable for framing. These framed hankies make wonderful additions to bath or bedroom decor.
Things You'll Need
Vintage hankies
Frame
Acid-free backing
Carefully hand wash the hanky. Soak in a mild solution of water and baking soda, rinse and spread flat to dry. Iron if necessary.
Consider the hanky design. Many are embroidered only on the corners, while others may have a design that encompasses the entire piece. Choose the best look for display. This could be folded so the corner is highlighted or laid completely flat. If you are folding the hanky, be sure to lightly press the folds with an iron so they remain crisp.

Choose your frame. Measure the hanky carefully if you are going to be framing it completely flat and purchase a frame accordingly. No matting is necessary, but can be done to add a touch of elegance to your framed hanky. If you are folding the handkerchief so that a corner is displayed, purchase a frame that will fit accordingly. The folded hanky can be centered as in the picture above, or brought in from a corner, with perhaps a photo of the person it belonged to in the opposite corner. This must be considered when choosing the size of the frame.
Choose a backing. Your backing should be acid free, either paper or fabric, and should enhance the look of the hanky. If the hanky is white, for instance, with a great deal of lace that you want to display, it might be wise to use a black background so that the design stands out.
Place your hanky upside down on the glass of the frame. Place your backing immediately on top. Use additional backboards if necessary so that you get a tight fit. Secure the backing to the frame with the material provided. Your hanky is now framed and ready for hanging.