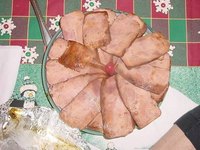 Canned hams are hams that have been cooked, and sealed in a can. They often are coated in a clear gelatin to preserve the flavor. These canned hams are either sold on a shelf in a grocery store, or in the refrigerated section. Refrigerated canned hams can be stored in a refrigerator for up to six months, while a shelf ham can keep for three years. Both of these hams are convenient and can be cooked in the same way.
Things You'll Need
Canned ham
Apricot juice
Pineapple slices
Begin by preheating the oven to 350 degrees F. It won't take long for you to assemble your ham for cooking so take this step first.
Use the key that comes with the ham to open the can up. You will have to wind it all the way around before it will pop off.
Take the canned ham out and place it in a medium sized roasting pan.
Pour some apricot juice in the roasting pan. Have it fill up about 1/2 of an inch high.
Open a can of sliced pineapples and lay them over the top of the ham. They can overlap each other.
Cover the roasting pan with tin foil.
Place the roasting pan in the oven for one hour at 350 degrees. You will know the ham is ready when the pineapples begin to darken in color. Remember that the ham is already cooked, you are just heating it up. It should take about 20 minutes per pound to become fully heated.
Slice the ham and serve hot.