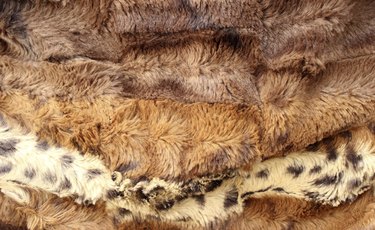 Costumes can be overpriced, especially when you plan on wearing them once for a costume party or Halloween, which is why the DIY route is often the best course of action. When deciding on something to wear, a cavewoman costume DIY is a simple project you can make even if you do not have much sewing experience. With the help of a sewing machine, you can crank out a costume in no time.
Cavemen and women had access only to animal hides to make garments. Fortunately, modern party goers can pop into a local fabric or craft store and pick up some faux fur. Pick whichever animal print fabric that speaks to you when choosing fabric for your DIY cavewoman or caveman costume.
If inexperienced with sewing faux fur, select a fabric with a low pile, meaning the fur strands are short. Faux fur with a higher pile can make a mess when you cut into it and sew, sending strands of faux fur across the room.
Determining Your Measurements
You will need enough material to be able to wrap it around your body's width and be able to reach from your shoulders to mid-calf. While you can determine the length at the store by wrapping yourself in the fabric, it might be best to determine your measurements beforehand.
Measure the widest points of your body, then add a few inches for wiggle room. Then, measure the length from your shoulder to where you want the costume to fall, such as the mid-calf. Since the fabric is sold in yards, use your measurements to determine how many yards you need.
Make sure you have some extra fabric to use for accessories, such as headbands, bracelets and anklets.
Making Your Cavewoman Costume DIY
Start by cutting two rectangles from the material, making sure they are large enough to wrap around your body when sewn together and long enough to reach from your shoulder to where you want the costume to end.
Next, construct the one-shoulder sleeve. To do this, cut a triangle off the top corner of the fabric. Hold one of the rectangles against your body, determine where the sleeve should end along the collar, and mark with a pin. Then, create the triangle by deciding where it should end under your arm. Once marked, cut the triangle. Then do the same to the other rectangle.
Flip the fabric over to look at the back, and sew the sides of the two rectangles together along the side on which you just cut the triangle. Then, sew along the other side and stop before reaching the top, leaving enough room to fit your arm through. Finally, sew the seam that will sit on top of your shoulder.
You can add feminine flair to a cavewoman costume by creating a 1/2- to 1-inch elastic casing. Do this by folding down the edges and sewing along the armhole. Then, thread the elastic through and sew shut. Lastly, add a tattered edge to the bottom of your costume by cutting out triangles at random and at various lengths.