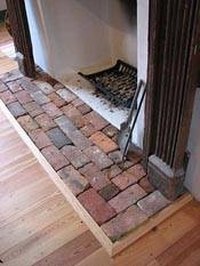 A brick hearth is an attractive, classic addition to any room with a wood stove or fireplace. The hearth protects the floor from errant embers that could burn wood or scorch carpet. Bricks can be laid in rows or herringbone patterns or in a combination of colors and patterns that add visual interest to the hearth. Building a brick hearth is a simple process that can be completed in an afternoon by a novice handyman.
Things You'll Need
Clean the surface of the floor where you will build the hearth. Remove carpet, tile or linoleum and scrape up glue residue.
Build a temporary frame for the bricks. When measuring for the frame, remember to allow about 1/2 inch between each brick for mortar. Set the frame where you will build the hearth.
Lay the bricks inside the frame without mortaring them to make sure they fit and that the pattern you choose fits the room's decor.
Mix the mortar. Don't mix more than you can use in two hours. If the mortar starts to set, add a little water and remix it.

Lay a bed of mortar in the bottom of the frame. Set the bricks in the mortar and tap them lightly to set them in place. Leave a gap between the bricks for grout. Use a level to make sure all the bricks are the same height.
Scrape mortar into the gaps between the bricks and use a dowel, rod or concave jointer to smooth out the seams and remove air pockets. Let the hearth cure for 36 hours before continuing.
Remove the frame from the bricks. Finish the sides with tile or mosaic for a decorative touch or use molding around the brick.