Things You'll Need
Hole digger

2 60-pound bags of quick concrete

Large wooden stick

PVC tubing 18 inches long

Razor knife

Duct tape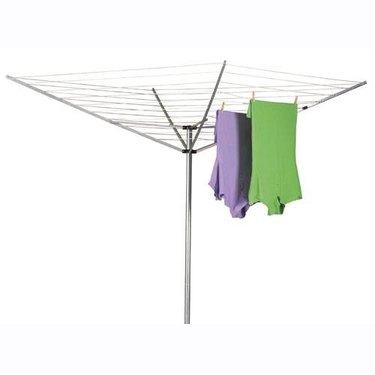 An old fashioned umbrella style clothesline is ideal for saving space when your yard space is limited and you do not have enough room to set up a full-size clothesline. The umbrella clothesline style rotates, which allows easy access to 200 feet of clothesline. The cost is low considering the amount of money you will save by not operating an electric dryer.
Step 1
Dig a hole with a hole digger 18 inches deep and 8 inches wide.
Step 2
Pour into the hole two 60-pound bags of quick concrete, purchased at any home store.
Step 3
Using your garden hose, fill the hole with water.
Step 4
Stir the concrete as you add water, with a large mixing stick. Stir the concrete until it is completely blended.
Step 5
Measure and cut a piece of PVC tube 18 inches long. (The umbrella clothesline post must fit snug inside the tube.) Tape the bottom of the tube so the concrete will not enter in. Push the tube down into the concrete.
Step 6
Let the concrete dry for a minimum of three days. Once the concrete is cured, place the metal clothesline post into the plastic tube.
Tip
Add water to the hole before adding the concrete to prevent the soil from sucking all the moisture out of the concrete, and causing it to crumble.
Warning
Clean off of your skin any concrete to prevent concrete burn.