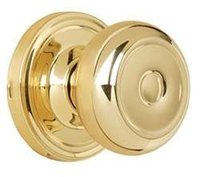 Choosing the right door knob is more than simply a matter of appearance. To have the door function properly, you will have to make sure that the door knob you buy is the correct size for your door. The standard size for a door knob diameter is either 2 3/8 inches or 2 3/4 inches and these knobs will usually fit doors that are anywhere between 1 3/8 inches to 1 3/4 inches thick.
Measure the diameter of the door knob opening in your door. The diameter is the distance of a straight line that reaches from one end of the opening to the opposite end, as seen in the picture.

Measure the width of the door. The width of the door is the distance between the interior side of the door and the exterior side of the door.
Using the measurements gathered in Steps 1 and 2 to purchase a door knob that will cover the entire diameter of the opening and will reach across the entire width of the door.