Things You'll Need
Presto Fry Daddy

4 cups of vegetable oil or 2 cups of vegetable shortening

1 8 oz. potato per person

Vegetable scrubber and soap and water

Vegetable peeler (optional)

Knife

Slotted spoon

1 cup flour

1 tbsp. Old Bay (Chesapeake seasoning), Tony Chachere's (Cajun seasoning), or salt and pepper

1 gallon-sized zip top bag

Paper towels or black and white newspaper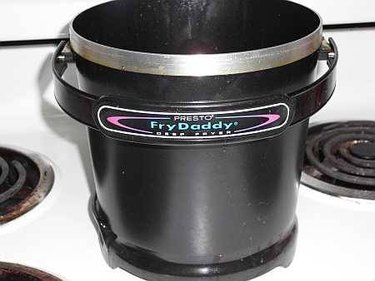 Steak fries are thickly cut French fries that are cooked to a golden brown in a deep fryer. If you have a Presto Fry Daddy, it maintains a constant temperature to let you worry about more important things. By following this guide, you will have perfect steak fries from your Presto Fry Daddy to accompany a rib eye or hamburger.
Step 1
With the Fry Daddy unplugged, pour in 4 cups of vegetable oil.
Step 2
Plug in the Fry Daddy and let it preheat for 15 minutes. During this time, prepare the potatoes.
Step 3
Wash and scrub the potatoes with the soap and water and vegetable scrubber. Peel the potatoes if desired. You can leave the skins on for a more rustic flavor and appearance to your steak fries.
Step 4
Slice each potato lengthwise into long slices about 1/2-inch thick and the length of the potato. Steak fries are cut thicker than shoestring or fast food french fries.
Step 5
Add the flour and seasoning to the inside of the zip top bag. Put the potato slices in the bag and shake to coat. This will lightly coat the steak fries and give them extra flavor.
Step 6
Place a handful of the seasoned potatoes into the Fry Daddy after it has pre-heated for at least 15 minutes.
Step 7
Fry the potatoes for 11 to 15 minutes or until golden brown. Stir them while they are in the oil to ensure that they are fried on all sides.
Step 8
Remove the fries from the Fry Daddy with a slotted spoon and place on paper towels or newspaper to drain. Serve hot.