Stainless steel cookware is sanitary, enduring and attractive. It will not rust or chip, and does not affect the flavor of food cooked in it or baked on it. While stainless cookware does not require seasoning or care to the same extent as cast iron items do, there are still certain details you should know when using stainless steel pots, pans and bake ware. Proper care of your cookware will result in items that can last for generations.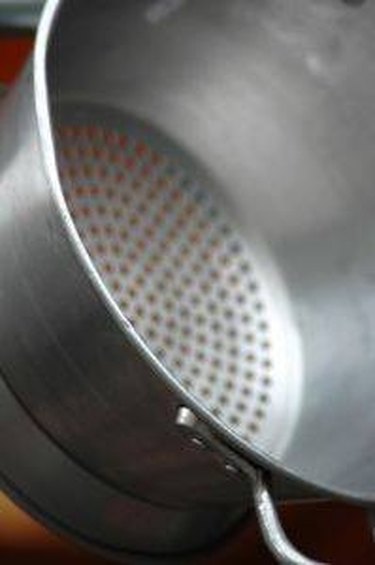 Things You'll Need
Mild Dish Detergent

Stainless Steel Cookware
Step 1
Wash new stainless steel cookware with mild soap and warm water prior to using it for the first time. Rinse well and dry completely with a soft, clean towel.
Step 2
Heat stainless steel cookware for about a minute over low heat before adding oil to the pot or pan. Preheating before adding oil will allow the oil to carbonize with the steel and prevent burning.
Step 3
Avoid adding salt directly to the surface of a pot or pan. Salt may cause spots or pitting to the metal. If foods require salt, add it after the water is boiling or directly to food while cooking.
Step 4
Remove streaks from stainless cookware by wiping it down with white vinegar or club soda. After wiping away the streaks, wash with mild soap and water.
Step 5
Remove rainbow-like discoloration caused by leaving the cookware over high heat for too long can be removed using special stainless steel cleaners.