Things You'll Need
Toothpicks (about 800 to 1000)

Wood glue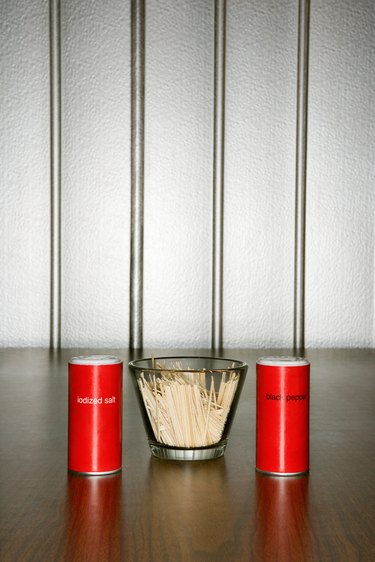 Create a toothpick bridge to occupy a child on a rainy afternoon or to use as part of a diorama for a school project. The bridge is not difficult to make but does require some patience and some tedious handling. Allow yourself a few hours to complete the project or divide the project into separate parts and finish it over a few days.
Step 1
Lay a toothpick on your work surface with the wide end directly in front of you.
Step 2
Spread a bit of glue along one side edge of the toothpick. Press another toothpick against the glue with its narrow end directly in front of you and press firmly for a few seconds. You have created one plank of equal width for your bridge. Repeat this step about 200 times for a medium-size bridge. You will then have about 200 planks.
Step 3
Lay one plank on your work surface and spread glue over one-third of the top at one end. Press another plank on top of the glue to join the planks and make a longer piece. Spread glue on top of the second plank and press another plank on top to lengthen. Repeat to join a total of 30 planks together.
Step 4
Repeat the above step three more times. You now have four lengths of planks for your bridge.
Step 5
Lay two lengths of planks together side by side. Separate the two lengths by placing two toothpicks in between the lengths, one at each end. Spread glue on the ends of the separating toothpicks and press them glue-side down onto the ends of the lengths.
Step 6
Spread glue on the center, inside edges of the two lengths. Press the center glued edges together to bring the middle of the lengths together. Hold firmly for 30 seconds. This is the underside of the bridge.
Step 7
Lay the remaining two lengths of toothpicks side by side. Arrange toothpicks across the two at one end. Repeat all the way across, approximately every 1 inch. Apply glue to the ends of these separator toothpicks and press firmly in place across the bridge.
Step 8
Dab glue on the ends of the lengths. Bend the bridge and place it over the top of the first set of lengths. Press firmly at the edges to join the top to the bottom.
Step 9
Place toothpicks in between the top and bottom of the bridge to help hold the structure in place.