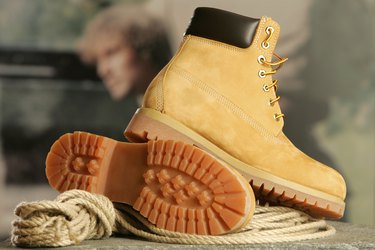 Timberland's waterproof construction-style boots can take a beating through dirty and wet conditions and keep on stomping. The classic yellow, full-grain nubuck leather boots popularized by hip-hop artists that include Jay Z and the Wu-Tang Clan are especially durable and easy to maintain. The suede upper flaps found on some women's styles require a bit more care to clean. While you can buy products especially designed to clean Timberland boots, you don't have to open your wallet. Clean your boots with do-it-yourself solutions so your Timberlands look fresh from the box.
Things You'll Need
Nylon brush

Bowl

White vinegar

Baking soda

Petroleum jelly

Terry cloth washcloths

Emery board
Leather Care and Cleaning
Step 1
Brush off any loose dirt with a nylon brush.
Step 2
Remove stubborn dirt buildup with a mixture of 1/4 cup white vinegar and 1/4 cup warm water. Apply the solution to a clean cloth and wipe down your boots. Rinse with a damp cloth and wipe with a dry cloth. Dab the same solution onto the boots to remove salt lines.
Step 3
Remove scuff marks with a baking soda mixture. Apply a small amount of water and baking soda to a clean, soft cloth. Rub the solution into the leather to remove the mark. Wipe off the solution with a damp cloth.
Step 4
Wipe 1 teaspoon of petroleum jelly onto your boots to condition the leather. Rub the boots in a circular motion with a soft cloth to buff them.
Suede Cleaning
Step 1
Scrape off any dirt with an emery board or pencil eraser.
Step 2
Dampen -- but do not soak -- a cloth with white vinegar and wipe it onto the suede to remove tough stains. Wait for the boots to air-dry.
Step 3
Brush the suede vigorously with a terry cloth towel or a toothbrush to replenish the nap of the suede -- the soft raised surface that can become flattened over time.
Tip
Timberland sells a boot cleaner that is safe for leather and suede boots.
Warning
Before applying any cleaning solution, test it on a small spot to confirm it won't discolor your boots.