Things You'll Need
Decorative tin or box

Tissue paper

Cellophane bags

Ribbon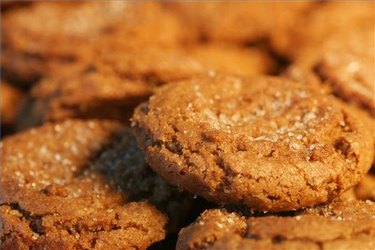 If there's one gift everyone loves, it's food. That's especially true when it comes to cookies. Cookies make the perfect gift for holidays, birthdays and even anniversaries. Of course, giving someone cookies in a zip-top bag isn't exactly festive. When giving cookies as a gift, you want to make them look like a gift. Taking the time to wrap cookies as a gift makes the recipient feel like she's getting something special. Best of all, you don't need to spend a fortune on wrapping.
Step 1
Choose a decorative tin or box that suits the occasion. Depending on the time of the year, you can usually find decorative tins and boxes at department stores. During the holidays, there are several choices to choose from. Some department stores reserve an entire aisle for food gift packaging.
Step 2
Select tissue paper that matches the box and occasion. In the gift wrap section of most department stores, you'll find a wide variety of tissue paper colors and styles. Select one that matches the color of the decorative tin or box you'll be using and the occasion for the gift.
Step 3
Place cookies in cellophane bags and tie with a ribbon. Not all tissue paper is food safe and, for that reason, it's best to protect the cookies. The cellophane bags will also keep the cookies fresh.
Step 4
Create a nest for the cookies using the tissue paper. Wad up several pieces of tissue paper and stuff them into the decorative tin. Then use a few more pieces to create a nest for the cookies.
Step 5
Nestle the cookies inside the box. You want the cookies to be surrounded by the tissue paper so that they look like a gift. Think of the way expensive cookie shops package their products.
Step 6
Add a bow to complete the look. Put the top on the box and then use a wide ribbon to tie a bow. If you want, you can also add a special gift tag.
Tip
If the occasion doesn't fall close to a holiday, craft stores are another great place to look for boxes and tissue paper.
If the decorative box features an elaborate design, it's best to select a solid colored tissue paper.
Warning
If mailing the cookies, add extra tissue paper to prevent the cookies from getting broken.