Things You'll Need
9 x 9-inch inch pan

Blender

Pint of fresh cherries, pitted

Sugar

Fresh lemon

Sprig of fresh mint (optional)

2 cups ice cubes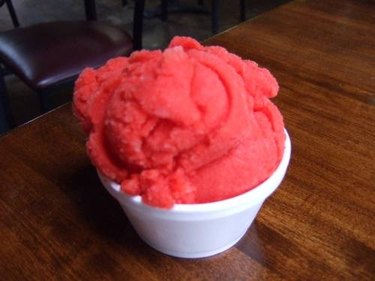 Cherry Italian ice is one of the most refreshing desserts on a hot, sunny day. The fresh fruit and acid from the lemon juice cleans the palate, making it the perfect dish after a meal. It's also an excellent alternative to ice cream for those who are lactose intolerant. This at-home recipe is simple to make and uses fresh fruit as the primary ingredient, making cherry Italian ice a flavorful dessert that is also high in nutrients.
Step 1
Take the pan and put it in the freezer. Let it chill for at least 1 hour, or overnight if possible.
Step 2
Wash and pit the fresh cherries. Take half a lemon and squeeze out 2 tbsp. of lemon juice into the blender.
Step 3
Add the ice and sugar to the blender. Blend until you've reached a relatively smooth consistency.
Step 4
Add the pitted cherries to the blender. Blend until the mixture is combined thoroughly.
Step 5
Take the pan out of the freezer. Add the cherry ice to the pan, and spread it out evenly. Put the mixture into the freezer for 30 minutes before serving. Add a sprig of fresh mint for garnish, if so desired.