Having a section of bowed drywall does not necessarily mean that it must be replaced. Whether it is on a wall or ceiling, you may be able to fix it. You can repair drywall without calling a professional in approximately 2 hours or less.
Things You'll Need
Extension Cord

Putty Knife

Philips-Head Drill Bit

Tape Measure

Drop Light Or Flashlight

2-Inch Drywall Screws

6-Foot By 2-Inch By 4-Inch Board

Stepladder

3-Inch Nails

Hand Saw Or Skill Saw

3-Foot Square Plywood

Hammer

Drill
Step 1
Bring lighting into your attic to avoid mis-stepping and potentially falling through the ceiling or causing more damage. Plug in the extension cord and take a drop light up with you. You can also use a high-powered flashlight.
Step 2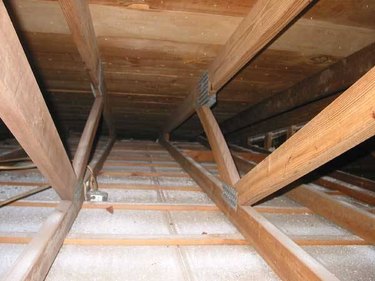 Go into your attic and find where the section of bowed drywall is located. It is much easier if you have someone underneath the bad section tap on the ceiling while you are in the attic. Take the piece of plywood to the attic to support you while you are working.
Step 3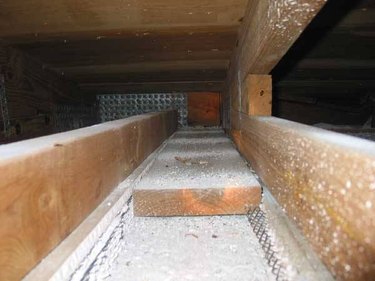 Clear away the insulation. The drywall is attached to the underneath of the floor joists or boards that you are walking on. In some cases, the attic may have a complete floor, and you must remove a portion of flooring to get to the drywall.
Step 4
Measure the distance between the floor joists. This is usually 16 to 24 inches. Leave the attic and use your saw to cut two sections off the 2-by-4 board to fit between the floor joists. Take the two pieces of wood that you cut back to the attic along with your hammer and nails.
Step 5
Place your cut boards flat between the floor joists exactly even with the bottom of the joists and not on the drywall. This will allow you to screw the drywall back into place. Make sure that your boards are running the opposite direction of the joists. Nail both ends of your boards from the outside of the floor joists.
Step 6
Go back into the house where the bowed section of drywall is located. Position your ladder under the section of drywall to be secured. Using your drill and drywall screws, carefully secure the drywall into place by screwing it to the boards that you installed in the attic. Slightly embed or sink the screws into the drywall.
Step 7
Use a drywall or putty knife to evenly smooth drywall compound over the screws. After it is dry, you can sand, texture or, if necessary, paint the repair.
Warning
It is very easy to fall through the attic if you are not careful. Do not carry too much at once; it makes it hard to keep your balance. If there is wiring where your section of bowed ceiling is, move it before adding your boards for bracing.