Things You'll Need
4 birch sticks (at least 7 inches long)

Carving knife or router

Medium grade sandpaper

Screwdriver

4 wood screws

Glass sheet (5 x 7 inches)

Thick cardboard (5 x 7 inches)

Felt (5 x 14 inches)

Spray adhesive

Picture wire

2 small screws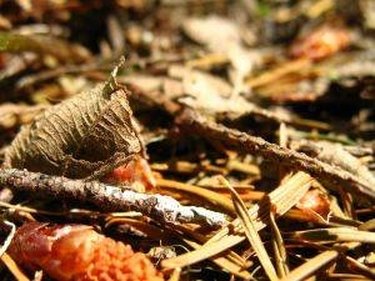 You can easily make picture frames to compliment your rustic home décor with materials from your back yard. Twigs and birch bark are popular design choices for a rustic style of decorating, or you can choose any type of sticks that appeal to you. Rustic décor relies on natural simplicity to achieve a look that is unpretentious, uncomplicated and down to earth. Make your own rustic wooden picture frames with little effort, a few supplies and these simple instructions.
Step 1
Find four birch branches or sticks that are the same thickness, or close. Cut two of the birch bark sticks so that they are 5 inches long and cut the other two so they are 7 inches long. With a carving knife or a router, notch an edge around the inside of each stick to act as a stopper for the glass. Part of the charm of your rustic wooden frame is its handmade appearance, so don't worry if your grooves are not perfect. The glass needs to sit flush against the wood, so smooth away any roughness in the notches with sandpaper.
Step 2
Place the birch wood face down and create the shape of your picture frame with the two 7-inch sticks on the sides and the two 5-inch sticks on the top and the bottom. Make sure the grooved edges are at the front of the frame. Attach the birch wood together at the corners with screws.
Step 3
Place the glass into the frame so that it rests against the grooves. You can take the glass from an inexpensive dollar store frame, have a special piece cut for you at your local home improvement store or cut it yourself with a glass cutter and running pliers. The easiest and least expensive way to obtain the glass for this project is to purchase a dollar frame just for the glass.
Step 4
Spray adhesive on the cardboard and wrap it in the felt. Let the adhesive dry. Place your picture in the frame, then insert the felt backer board. Attach the picture wire to hold the backer board into place.
Tip
Your birch or twigs do not have to be an exact size for the outer portion of the frame. Any or all of the sticks can be longer than indicated to create a more rustic frame.
Warning
Make sure there are no insects in the wood before you build your frame.