Things You'll Need
Digital image

Heat press

Mug glazing unit

Heat transferred paper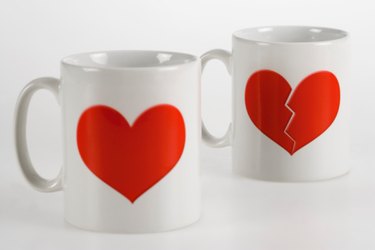 Transferring digital images to mugs can be done a few ways. If you are looking to do many mugs, digital image printing can be done right from home with a few tools. Putting pictures on a mug makes for a great gift, adding a personal touch that can't be gotten anywhere else. They also make a great sale item, if you are looking for specialized merchandise to sell.
Step 1
Transferring images to mugs at home requires buying a heat press, mug glazing unit and heat transferred paper. This could cost anywhere between $500-$1,000 or more, depending on the quality of the machines. This option is practical if you need to produce a large quantity of mugs. The images are printed off the computer onto heat transfer paper, then transferred onto mugs that have been treated with a polymer film. The digital image is then applied and heated up to 450 degrees F to complete the image transfer.
Step 2
If you are looking to make one or two mugs, you can look into getting them printed online. Some companies allow you to upload your digital image off your computer and design your own mug, right from the comfort of your computer chair. The company then produces the mug and sends it right to you.
Step 3
If you have a time limit and need your mug designed fast, look for a local company. Most cities have graphic artists that design T-shirts and other graphic designs. Those companies may allow the public to come in and design their own items for a fee. You can put your order in and receive your mug the same day.