Things You'll Need
1/2-inch plywood

Ruler

Pencil

2-inch trim

Decorative paint

Mirror

Mirror adhesive

Nail gun

Putty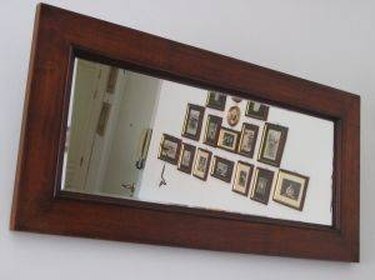 Framing a wall mirror is an inexpensive way to create a very expensive look for your home or office. You can easily create custom-designed wall art with a few materials and a little imagination. Paint your mirror frame to compliment your room décor, or create an old world look with gold or silver leaf. You can complete this project in less than 1 hour if you have your materials assembled.
Step 1
Measure the wall mirror you plan to frame, and take the measurements to your local home improvement store. You can find all of the materials you need for this project there, and they will cut your 1/2-inch plywood backing to size for you. They will also miter-cut the wood trim to size, saving you this step. Your back board should be 2 inches larger around the perimeter to allow for the trim.
Step 2
Place the plywood on a level surface, and measure 2 inches around the perimeter. Mark a pencil line on the plywood, indicating the placement of the mirror. Coat the area within the pencil lines with the mirror adhesive. Buy adhesive especially designed for mirrors, as other adhesives will eventually bleed through the mirror surface, discoloring it.
Step 3
Place the mirror onto the surface of the plywood, pressing it firmly into the adhesive. Set it aside to dry.
Step 4
Paint the trim to compliment the décor of your room. You can use spray paint or hand paint the trim with acrylics for a custom design. It's easier to paint the trim before you frame it around the mirror, saving you the step of taping off the mirror for protection. Let the paint dry completely.
Step 5
Place the trim around the perimeter of the mirror on the plywood backing that is visible. Attach the trim to the plywood with a nail gun.
Step 6
Fill in the holes left by the nail gun with putty, and paint over them if necessary. If you chose to stain the wood trim, buy putty to match the stain color you choose.
Tip
Let the mirror adhesive dry according to the manufacturer's directions before you move it.
Warning
Wear safety glasses and gloves when working with a nail gun.