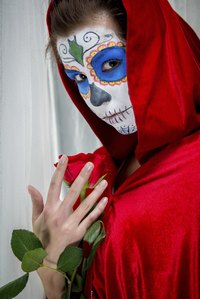 Whether you want to be a clown, a skeleton or a pale-skinned vampire, you need to start your transformation with white face paint. Greasepaint and water-soluble makeup are available in costume shops and many party or novelty stores. However, you can whip up your own supply of white face paint at home with a few basic ingredients.
Things You'll Need
Bowl
Measuring spoons
Mixing spoon
5 teaspoons cornstarch
1 teaspoon white all-purpose flour
2 teaspoons vegetable shortening
Glycerin
Measure 5 teaspoons of cornstarch and 1 teaspoon of all-purpose white flour into a bowl. Stir until they're evenly combined.
Add 2 teaspoons of shortening to the dry ingredients. Mix everything together until you create a smooth paste.
Add a drop of glycerin to the paste and stir until the glycerin is evenly distributed. Glycerin gives the makeup a creamier texture. If you're not satisfied with the consistency of the makeup, add another drop of glycerin and stir thoroughly. Your face paint is now ready to apply.