Things You'll Need
Bowl

Measuring spoons

Mixing spoon

5 teaspoons cornstarch

1 teaspoon white all-purpose flour

2 teaspoons vegetable shortening

Glycerin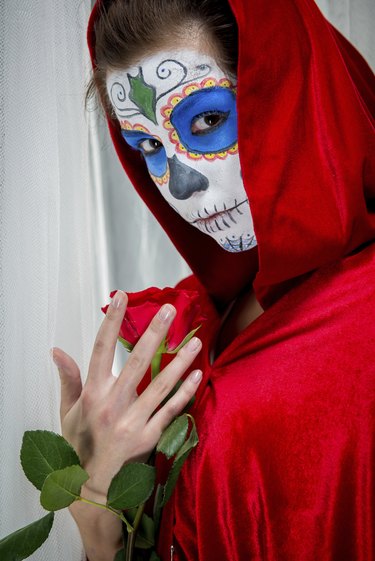 Whether you want to be a clown, a skeleton or a pale-skinned vampire, you need to start your transformation with white face paint. Greasepaint and water-soluble makeup are available in costume shops and many party or novelty stores. However, you can whip up your own supply of white face paint at home with a few basic ingredients.
Step 1
Measure 5 teaspoons of cornstarch and 1 teaspoon of all-purpose white flour into a bowl. Stir until they're evenly combined.
Step 2
Add 2 teaspoons of shortening to the dry ingredients. Mix everything together until you create a smooth paste.
Step 3
Add a drop of glycerin to the paste and stir until the glycerin is evenly distributed. Glycerin gives the makeup a creamier texture. If you're not satisfied with the consistency of the makeup, add another drop of glycerin and stir thoroughly. Your face paint is now ready to apply.
Tip
For gluten-free face paint, use tapioca flour.
To give your makeup a smoother finish, pat with your fingers to even it out. Dust with cornstarch to set the makeup.
For colored makeup, add a drop of food coloring to a portion of your white face paint, then mix. Add more food coloring for bolder shades.
If you have leftover face paint or don't want to use it right away, store it in an air-tight container.
Glycerin is available in most drugstores and the pharmacy section of most supermarkets.