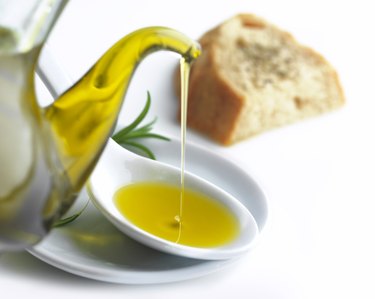 High quality extra virgin olive oil is a tasty dipping oil for bread all on its own, but adding ingredients like herbs enhances the flavor for a standout starter to your meal. Olive oil is strongly flavored, so if you want other flavors to shine through, you can use a milder alternative such as grapeseed oil.
Mix It Up
The fastest way to make a dipping oil is to sprinkle dried herbs and spices in the bottom of a small bowl and pour oil over them. Mix it gently and serve with baguette slices. Try olive oil with sea salt, minced garlic and rosemary, or grapeseed oil with oregano, basil and red pepper flakes.
Infuse It
It can take weeks for the flavor of the ingredients to permeate infused oils. For a shortcut, put spices and oil in a saucepan and simmer for a few minutes. Let it cool before serving with slices of a rustic bread. Cardamom and coriander seeds with whole peppercorns supply a slightly exotic flavor to nut oils such as walnut oil.