Things You'll Need
Plain white copy paper

Red marker

Clear tape or double-sided tape

2 to 4 hairpins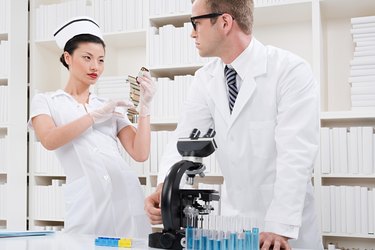 A paper nurse hat is the finishing touch to top off a homemade nurse costume for any occasion. This hat, sometimes decorated with a red cross on the front, makes the outfit immediately recognizable. One sheet of plain white copy paper creates the basic hat structure; a red stripe along the bottom edge, plus the cross design, rounds out the look.
Step 1
Smooth out a sheet of paper on the work surface, positioning the paper so it is wider than it is tall.
Step 2
Fold the upper left and right edges in diagonally toward the center so the tips meet. The paper has a point at the top center after you crease the folded edges.
Step 3
Fold the bottom edge up to the point where the paper begins to angle inwards. Crease the paper; it should resemble a simple sailboat shape.
Step 4
Draw a line with a red marker straight across the bottom flap or boat shape, near the top edge of the flap. Draw a red plus sign at the center of the flap, if desired.
Step 5
Flip the hat shape around horizontally. Fold the two triangles at either end of the bottom section down toward you. Secure them with clear tape or double-sided tape.
Step 6
Fold the top point straight down so it almost reaches the bottom edge of the paper; the farther from the bottom edge, the more the top part of the hat sticks up from the sides. Secure the point with clear tape or double-sided tape.
Step 7
Fold the two edges inward along the edges of their paper flaps. Crease the folds, then let the paper pop back upwards. These side flaps comprise the sides of the hat.
Step 8
Place the hat on your head or a child's head and secure the side flaps with hair pins. It may be easier to secure the hat on someone else's head, rather than your own.
Tip
Choose a heavy-weight paper or even card stock for a durable hat.