Things You'll Need
5 pieces 2-by-16-by-1/2-inch birch plywood

12 pieces 2-by-3 3/8-by-1/2-inch birch plywood

1 piece 17-by-16-by-1/4-inch birch plywood

1-inch brads

Carpenter's square

Wood glue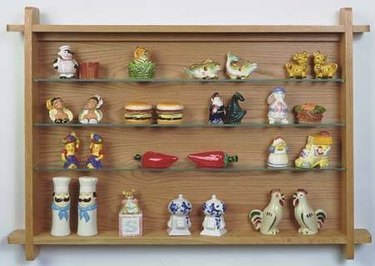 Display cases can be found in almost every home. Depending on what you would like to display, wooden display cases can be a moderately challenging project. This means that a wooden display case showing off your hot wheels collection may be a bit easier to build than one displaying family heirlooms. Regardless of how simple or elaborate a wooden display case is the same basic knowledge for woodworking applies. For the sake of this article we will be building a display case out of ½-inch birch plywood. Only the basic woodworking tools will be needed for this project.
Step 1
Lay two of the 16-inch pieces side by side. Make a mark ½-inch from each end. From the inside of those marks, make a mark at 3 3/8-inches and then another mark ½-inch from that one. Repeat this process until you have four evenly spaced sections that measure 3 3/8-inches.
Step 2
Place the carpenter's square on the marks and draw lines across the two pieces to indicate where the shelves will go. Next, lay the other two 16-inch pieces side by side and mark where you decide the 12 pieces (dividers) that measure 3 3/8-inches will go.
Step 3
Apply glue inside the ½-inch marks on one of the two 16-inches pieces from Step 1 and secure one of the 16-inch pieces from Step 2 to it with the 1-inch brads. Repeat this until you have a box that measures 17-by-16-inches.
Step 4
Apply glue to the ends of the remaining 16-inch pieces and secure them on the lines that you drew in Step 1. Next, apply glue to all the edges of the wood that will be the back of the wooden display case. Place the 17-by-16-by-1/4-inch plywood on that side of the case, and secure it to the shelves with the 1-inch brads.
Step 5
Apply glue to three sides of one of the twelve dividers. Place it on the lines that you drew in Step 2. Repeat this process until all the dividers are installed where you want them. Allow the glue to dry overnight.
Tip
Always wear safety glasses.
If the dividers do not fit snugly, you may need to use a clamp to hold them in place while the glue drives over night.
Sanding the pieces before you put the display case together will help the finishing process go a little smoother.
Warning
Do not leave power tools unattended.
Do not apply finishes in an unventilated area.