Ribs from a rib joint are a thing of beauty. Pit masters spend hours, even days, slow roasting these beauties to bring you that decedent, tender, fall-off-the-bone meat. Don't have a true southern barbecue in your backyard? No worries, your oven can get the job done. You just have to follow the tried and truest barbecue rule: long, slow and low. It'll take a little while, but this super easy, make-you-look-like-a-superstar trick will give you the best ribs this side of the Mississippi. You'll never make ribs any other way.
Things You'll Need
4 pounds pork ribs (1 pound per person)

2 cups barbecue sauce, store bought or homemade
Step 1: Prep
Preheat the oven to 275 degrees Fahrenheit. Line a baking sheet with aluminum foil, and add the ribs to the prepared pan.
Step 2: Sauce
Liberally brush the ribs with sauce on all sides.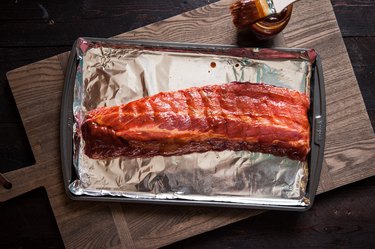 Step 3: Slow Cook + Sauce
Cook the ribs until tender and falling off the bone, about 4 hours. Every 45 minutes, remove the ribs from the oven and brush with more barbecue sauce.
Tip
Slow cooking is the secret! For true barbecue flavor and texture, give the ribs time to cook slow and low. Cooking then too high, or (heaven help us) boiling them will just lead to tough, chewy meat. Slow cook for best results!
Step 4: Cut and Serve
Remove the ribs from the oven, and cut between each rib. Serve immediately.
Tip
Need to make these ahead of time? Cook them the day before, leaving the ribs intact. Loosely cover with foil and store in the fridge. The next day, preheat a grill to high. Cook on both sides until the ribs are warmed through, about 8 minutes.