Things You'll Need
Shower pan liner

Utility knife

Drain assembly

Duct tape

8-Penny nails

Hammer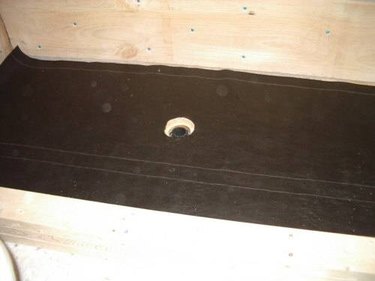 The first step to installing a shower pan or tray is making sure to lay down a solid, waterproof liner. A shower pan liner prevents water from leaking into the bathroom walls. Flexible shower pan liners are made from a rubber like material. They are strong, durable, long lasting, and easy to maneuver. Shower pan liners are placed over plywood sub floors and concrete slabs. If you are ready to install a shower, read through the following steps to learn how to install the shower pan liner.
Step 1
Lay the shower pan liner in the bottom of the shower floor. Cut a small hole with a utility knife in the center of the liner over the drain hole.
Step 2
Lay the drain base over the hole. Cover it with duct tape to prevent debris from getting into the drain before you are ready to assemble it.
Step 3
Lap the sides of the shower liner up the walls 10 inches on three of the shower wall sides. Use 8-penny nails to nail the liner to the wall studs 1/2 inch from the top edge of the liner. Make sure the nails go through the studs, not just the drywall.
Step 4
Start at the center of the shower floor, and extend the liner outward towards the walls, making sure that the bottom of the shower pan liner lays flat on the floor. Overlap the liner when you get to the corners, and secure the liner by hammering 8-penny nails through the liner and into the wall studs.
Step 5
Fold the liner over the shower curb. The curb is found on the open wall of the shower. It is usually only 6 inches high. Because there isn't a wall to nail the liner to, the liner is folded down over the curb. Drive 8-penny nails through the liner into the outside top edge of the curb.
Step 6
Make sure the liner is nailed either to the wall studs or to the curb. It should rest securely all the way around the perimeter of the shower. The goal is to make sure the shower is leak proof. You are now ready to install the shower pan.
Tip
Make sure your corner folds are as tight and flat as possible.
Warning
Your shower is only as waterproof as the foundation. If you start by sealing the shower properly with a well installed shower liner, it stands to reason that the rest of your shower will be leak proof as well.