Things You'll Need
Roofing material

Ridge cap

Plastic forms

Small nails

Hammer

Spray foam insulation

Saw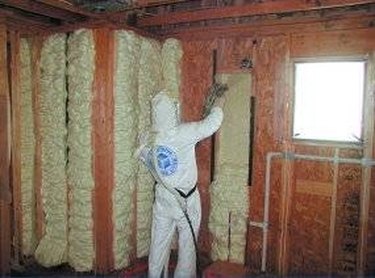 There used to be a time when the only insulation available was pink fiberglass. Today there are more options. Rigid foam and spray foam are two of them. All insulation materials require proper venting. Cathedral roofs especially need a lot more insulation between the ceiling and the rafters because there usually isn't any attic space. Heat from the house rises up to the attic, but when there isn't one, the heat rises up to the roof. Over time, this can damage the shingles. Adding insulation between the rafters provides a barrier to shield the roof from extreme heat and cold. If you are adding foam insulation to your roof rafters, you must also properly ventilate the area.
Step 1
Prepare the roof. Build the rafters, and secure the 5/8-inch CDX sheathing material. Leave a gap on both sides of the roof near the ridge so air can escape. Place a ridge cap over the ridge to hide the gaps.
Step 2
Temporarily secure long plastic forms between the rafters on the inside of the ceiling. These forms are only 1 inch thick and can be purchased at any hardware store. They run from the bottom of the rafters up to the ridge.
Step 3
Spray the foam insulation between the rafters on the inside of the house. Start slowly. The plastic forms provide spacers for ventilation.
Step 4
Cut off any excess insulation with a large saw. A utility knife is too small and would take forever to cut away at insulation.
Step 5
Remove the plastic forms from between the rafters. There is now ample space available for air to travel up through the rafters, out through the ridge beam or down through the eave vents.
Tip
Use any eave or gable vents. Unless the house is older, there should be plenty of spaces created for vents during construction.
Warning
Don't overspray. Foam insulation swells and grows after it is sprayed, so spray sparingly at first.