Things You'll Need
Water or pineapple juice

Sugar or honey

Rice vinegar

Soy sauce

Ketchup

Saucepans

Cornstarch

Bowls

Fresh ginger

Sesame seeds

Scallions

Red chilies

Garlic

Salt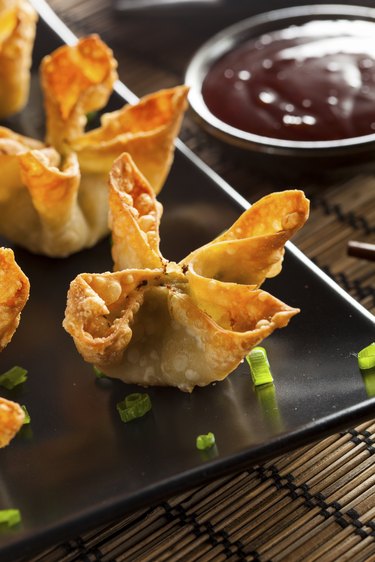 Whether you're making fried dumplings at home or ordering takeout from a restaurant, a quick homemade dipping sauce can enhance the savory dumplings with contrasting sweet, sour or spicy flavors. Some prepared sauces for Asian dumplings can be cloyingly sweet or too spicy for some diners. Homemade dipping sauces allow you to customize the level of spicy heat and the balance of sweet and sour.
Sweet-and-Sour Sauce
Step 1
Combine 8 parts water, 4 parts sugar, 3 parts rice vinegar, 1 part soy sauce and 1 part ketchup in a saucepan over medium heat. For a fruity flavor, replace the water with pineapple juice.
Step 2
Bring the mixture to a simmer over medium heat, then lower the heat so the mixture continues to bubble gently.
Step 3
Make a cornstarch slurry in a separate bowl. For every cup of sweet-and-sour sauce, you need 2 tablespoons of the slurry mixture.
Step 4
Stir the cornstarch slurry into the simmering sauce. Continue to cook the sauce for another 30 seconds or so to allow the cornstarch to thicken the sauce.
Step 5
Remove the sauce from the heat and allow it to cool before serving.
Spicy Soy Dipping Sauce
Step 1
Combine 4 parts soy sauce, 2 parts rice vinegar and 1 part sugar or honey in a bowl. Stir the mixture until the sweetener dissolves.
Step 2
Add a spicy kick with grated fresh ginger or Asian chili paste. Add the ginger or chili paste in an amount equal to the amount of sweetener you used for medium spiciness.
Step 3
Garnish the sauce with toasted sesame seeds or thinly sliced scallions.
Chili Sauce with Garlic
Step 1
Mince a handful of stemmed red chilies and a few cloves of garlic. Control the level of spicy heat by using mostly small, hot chilies such as Thai bird's eye or larger, milder chilies such as Fresno peppers.
Step 2
Heat the chilies and garlic in a saucepan over medium heat with a pinch of salt, a splash of water and about 1/4 cup each of rice vinegar and sugar.
Step 3
Simmer the chili mixture for about five to 10 minutes, lowering the heat if the sauce starts to boil vigorously. The sauce is ready when the chilies are tender and the sauce thickens.
Step 4
Cool the sauce to room temperature before serving it.
Tip
To mince chilies and garlic quickly, roughly chop them, then pulse them in a food processor.
Warning
Cutting fresh chilies can be irritating to the skin, eyes and nose. Use gloves or wash your hands immediately after handling the chilies. If you use a food processor to mince chilies, avoid inhaling directly over the food processor after you remove the lid.