Things You'll Need
Wet look sealant (1 gallon for approximately 200 square feet of concrete)

Stiff push broom

Long roller handle and roller cover

Paint stir stick

Roller pan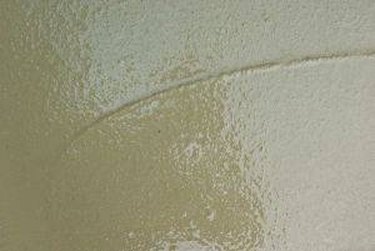 Concrete can be used indoors and out. Concrete floors in your home are no longer something to cover with tile or carpet. You can stain, paint, stamp and beautify the concrete in a number of ways. Outdoors, you can create a gorgeous patio, driveway, pool surround and more. One way to enhance the appearance of concrete is by applying a sealer that will give a clear, glossy, wet-look finish. Not only does this type of sealer enhance the appeal of your concrete, it also protects against water, stains and more.
Step 1
Clean the area you want to seal using the stiff push broom. If desired, you can hose off the area as well, but you will need to allow it to dry completely before sealing. Make sure to remove as much dirt and debris as possible.
Step 2
Stir the sealant well using a stir stick. Alternatively, you can also shake the sealed can thoroughly. Pour a few inches of sealant into the roller pan.
Step 3
Dip the roller (with the cover on) into the sealant and spread evenly onto the concrete. The sealant may appear milky when you first apply it. It will dry clear and glossy. Spread an even coat across all of the concrete, trying not to overlap too much.
Step 4
Apply a second coat after allowing the first to dry for at least 2 hours. Often one application will be sufficient. Allow the sealant to dry for at least 72 hours before placing furniture on it or driving on it. You can safely walk on it after about 24 hours.
Step 5
Clean up using soap and water, and dispose of any remaining sealant that you don't want to keep properly. It should not be thrown in the trash. Contact your community waste management office for local regulations.
Tip
Be careful when walking on sealed concrete if it gets wet, as it might become slippery. Store remaining sealant in a cool dry place that will not get below freezing, as the sealant can freeze and become unusable.
Warning
Don't seal newly laid concrete until it is at least a month old.