Did you know you can easily stain furniture with items you have in your pantry and under your sink? With a little kitchen chemistry, you can mix natural stains to use for various DIY décor projects for your home. Get a stained and weathered look without the fumes in half the time using this vinegar and steel wool trick. You can transform even the most basic Ikea pieces into beautifully aged furniture.
Things You'll Need
[object Object]

[object Object]

[object Object]

[object Object]

[object Object]

[object Object]

[object Object]

[object Object]

[object Object]

[object Object]
Coffee and tea both contain tannin, which reacts with the vinegar solution when applied to the wood creating a color change. Different types of wood contain various levels of tannin and will respond differently to the solution, so experiment with your materials to find the right combination that suits your tastes. The white pine used in this project has low levels of tannin, so using coffee or tea "boosts" the tannin levels and leaves a deep grey color.
Step 1: Prep the stain solution
Place two fine-grade steel wool pads in a clean glass jar and fill with white vinegar. The solution will become reactive and create a light stain when mixed with coffee or tea after resting for 24 hours. The longer you wait the stronger the color will be. The solution in this example sat for 72 hours.
Step 2: Prep the wood furniture for staining
If you're using a new and unfinished piece of furniture, lightly sand with a 100-grit sandpaper to smooth rough surfaces. Wipe away any dust with a rag. If employing this technique to re-finish furniture you already own, strip the furniture of any paint or sealants so that the stain can permeate the wood. Remove any drawer pulls or other decorative hardware and set them aside in a safe place while you're staining.
Step 3: Brew tea or coffee and test the stain
When you're ready to begin staining your wood, brew a large pot of coffee or tea in 3-4 cups of water. Allow the liquid to cool before transferring into a jar or container that you can easily dip a paint brush into. Before staining your furniture, experiment on a scrap piece of wood to test the color. Brush on the coffee or tea in the same direction as the wood grain. Once the liquid has been absorbed by the wood, use a clean brush to apply the vinegar and steel wool solution and watch the color change right before your eyes!
Step 4: Apply the stain solutions to the furniture
Working on one surface of your furniture at a time, brush on the coffee or tea in the same direction as the wood grain and follow with an application of the steel wool and vinegar. After you've stained the entire piece, you may find additional coats are necessary to achieve a deeper color. After the wood has completely dried, use a piece of 100-grit sandpaper to sand particular areas and edges to enhance the weathered look and blend areas where the brush marks are too pronounced.
Step 5: Seal the furniture with wax
Protect the stained surface from moisture and daily use by applying a clear furniture wax to the wood. First, vacuum away any sanding dust or residue and then rub on the clear furniture wax with a clean tack cloth. Follow the manufacturer's instructions for drying times before putting your furniture to use.
Step 6: Install new hardware
Replace any hardware you removed to stain the furniture or add fresh drawer pulls to complete the look. Try installing brass label pulls to add an industrial design element while making it easier to get the drawer open!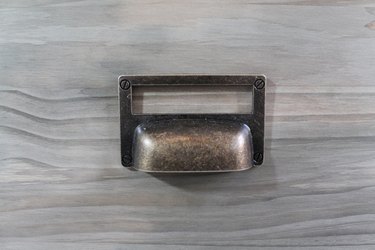 Step 7: Style your finished furniture
Add a few plants, a thrifted catch-all tray and other knick-knacks. I stained a matching set of side tables to create coordinated bedside tables to tuck away sketchbooks, lotion and electronics in style.
These weathered side tables pair perfectly with my eclectic bedroom decor.
What would you stain using this easy steel wool and vinegar method? Let us know in the comments below!