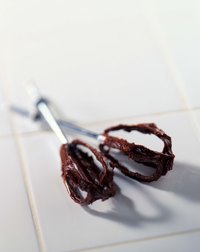 Chocolate frosting may just be icing on the cake, but this frosting will make the cake. It tastes like a chocolate candy bar, so if you have a chocolate sweet tooth you need to satisfy, you will love this recipe. You might even lick the bowl clean. It's perfect with a chocolate cake, but can be used with any kind of cake.
Things You'll Need
1 cup heavy cream
1/4 cup light corn syrup
2 sticks butter
2 bags (24 oz.) semi-sweet chocolate chips
2 cup powdered sugar, sifted
2 teaspoons vanilla extract
Heat cream, corn syrup, and one stick of butter over medium-high heat until it barely comes to a boil. You'll know it's ready when little bubbles appear around the inside of the pot.
Dump chocolate chips in a mixing bowl and pour cream mixture over chips. Wait one minute, then stir until chocolate is smooth and has no lumps. Let mixture cool for five minutes.
In a mixing bowl, beat the other stick of butter and sugar until light and smooth.
Add cooled ganache and vanilla to the powdered sugar and butter mixture. Beat until light and smooth.