Things You'll Need
2 tbsp. soy sauce

1 tbsp. rice wine vinegar or mirin

2 tbsp. cornstarch

Mixing bowl

2 tbsp. fresh ginger

Spoon

2 tbsp. fresh garlic

Sharp knife

2 tsp. sugar

1 tsp. crushed red pepper

3 tbsp. sesame oil

1/2 cup vegetable, chicken or beef broth

Plastic wrap

1 tbsp. lime, lemon or orange juice (optional)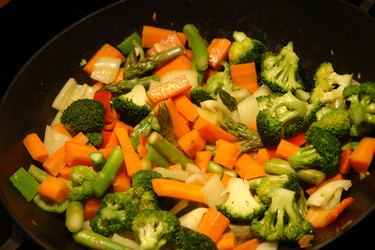 While there are as many variations on classic stir-fry sauce recipes as there are chefs, a basic stir-fry sauce is something every cook should know how to make. A simple, easy-to-prepare stir-fry sauce can be used to flavor a wide variety of dishes, including vegetable, meat, seafood and combination stir-frys. You can make a stir-fry sauce shortly before you need to use it for a single meal, or you can make it up to a week in advance in larger quantities to use on a regular basis. Discard any stir-fry sauce that isn't used within seven days of preparing it.
Step 1
Combine the soy sauce, rice wine vinegar or mirin and cornstarch in a mixing bowl. Stir the mixture to fully dissolve the cornstarch.
Step 2
Peel the fresh ginger using the edge of a spoon to scrape the outside part off. Finely chop the ginger and place it in the mixing bowl with the soy sauce.
Step 3
Mince the garlic with a sharp knife and add it to the mixing bowl with the soy sauce and ginger. Add the sugar to the mixing bowl.
Step 4
Add the crushed red pepper to the mixing bowl and pour the sesame oil over the top. Add the vegetable, chicken or beef broth and stir the mixture to combine all of the ingredients.
Step 5
Cover the mixing bowl with plastic wrap and allow the flavors to combine for one hour before using the stir-fry sauce.
Tip
Mirin is a type of rice wine that has a flavor similar to sake. Mirin is sweeter than rice wine vinegar, so using it in your stir-fry sauce will result in a milder taste. You can find mirin at most Asian markets and many large grocery stores.
For a sweeter stir-fry sauce, replace the rice wine vinegar or mirin with an equal amount of freshly squeezed lime, lemon or orange juice. You can use prepared orange juice if you don't have fresh fruit.
Reduce the amount of crushed red pepper if the stir-fry sauce is a bit too spicy for you, or add an extra 1/2 tablespoon if you prefer a spicier sauce. Look for Asian crushed red pepper in an Asian market or grocery store if you can find it. It generally has a different taste than crushed red pepper used in Italian food.