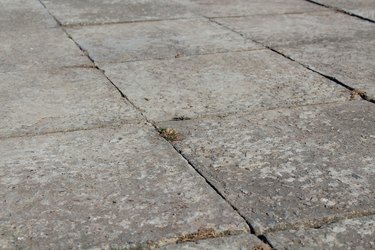 A walkway or outdoor lounge area made with concrete pavers adds value to your home and makes it more enjoyable for you. To do this project yourself, you need to know how to cut concrete pavers. While you lay down the majority of the pavers intact, you'll need a paver saw or paver cutter to customize some of them to fit your space. Luckily, you can use a table saw, a circular saw or an angle grinder for cutting paver stones, all of which are more common types of saws.
Safety Precautions for Paver Cutting
You must take proper safety precautions whenever you take on a new home improvement project or use power tools. When using a paver saw, table saw or any other saw, you should wear protective eyewear, work gloves and a dust mask, especially if you're sensitive to the air quality. You should also ensure that the saw is secured on a stable work surface. If you're not working on a table, use a grip mat or other surface. Your saw may have come with various safety mechanisms from the manufacturer, so check to ensure those are also working.
You must also use the correct type of blade in your saw. Always use a diamond blade designed for masonry or stone. If you're unsure whether the blade is safe for concrete, you should check the packaging. Finally, you may want to wet the concrete before sawing. Dampening can help prevent a lot of dust from entering the air and might make the job a little easier on your blade and the saw's engine.
Carefully measure and mark your pavers using chalk before using a paver-cutting saw, marking both the top and the bottom. The exactness you need depends on the project, but you don't want to be off by more than an inch. The first step for how to cut pavers is to cut the top. On the lines you marked, carefully saw to a shallow depth of no more than 1/4 inch deep.
Turn over the brick and begin sawing using your paver cutter on the lines marked on the bottom. Cut deeper this time, between 1/2 inch and 1 inch. Now you need to finish splitting the paving stone. Depending on its depth, you might almost be finished. If you've made your marks carefully and the cuts on both sides line up, you can merely continue to saw all the way through. If not, use a hammer and chisel to separate the pieces.
In addition to the steps and safety precautions, you can use a couple of other suggestions to make this job more manageable. You might want to lay down a sheet to catch the dust as you saw, especially if you're cutting in a workshop or garage, but it's helpful even if you're outside. Concrete creates a lot of debris even if you wet it.
Never cut concrete unless you know there's nothing else in it. Found concrete could contain metals, such as piping, wiring and other objects you absolutely don't want in your concrete. These can damage your saw and significantly increase the chance of an accident or injury as you work.
Finally, having someone to assist you or double-check your measurements is always helpful. If he is in the area while you saw, equip him with protective gear to ensure that everyone is protected from any danger.