The fact that your home is built on a concrete slabs does not preclude installing hardwood floors, but several considerations apply, not least of which is subfloor preparation. For starters, while you can consider solid hardwood for at- and above-grade installations, only engineered flooring, with its plywoodlike construction, is suitable below grade. You should also keep in mind that most accepted subfloor preparation methods involve raising the height of the finished floor.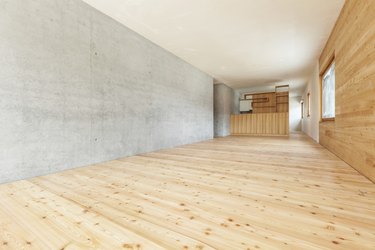 Installation Methods
Installing plywood over the subfloor or using sleepers, which are two-by-fours laid flat across the floor and used as nailers. Because it raises the finished floor by an extra 1 1/2 inches -- and for other reasons -- the sleeper method has fallen into disuse. You can nail a plywood subfloor to the concrete with powder-actuated fasteners, but that method isn't recommended for floors with radiant heating elements.
Another method is to install a floating plywood subfloor consisting of two layers of 3/8-, 1/2- or 5/8-inch plywood attached together with short fasteners that won't penetrate the concrete.

Part 1: Subfloor Preparation
Things You'll Need
Humidity meter

Tar paper or 6-mil polyethylene

3/4-inch exterior-grade plywood or 3/8-, 1/2-, or 5/8-inch plywood
Step 1: Dry the Slab
Before you prepare the concrete for hardwood flooring, it must be dry. You usually determine this with a meter that compares the relative humidity of the slab with the ambient humidity. If the slab is new, don't even begin moisture testing until 30 days after pouring it -- it probably won't be ready to be covered until 60 days after.
Step 2: Add Moisture Barrier
Once the slab is dry, cover it with a moisture barrier consisting of two layers of tar paper or a layer of 6-mil polyethylene -- in severe moisture conditions, you should prime the concrete first to seal it, and you should glue the moisture barrier to the subfloor.
Step 3: Lay the Plywood
Lay 3/4-inch exterior-grade plywood over the moisture barrier, leaving a 3/4-inch space at the walls and 1/8 inch between panels and affix the plywood to the subfloor.
If you choose the floating plywood method, lay down two layers of 3/8-, 1/2- or 5/8-inch plywood—orienting the sheets in the upper layer perpendicular to those in the lower layer—and affix them to each other with staples.
Part 2: Acclimating the Flooring
Moisture can ruin your flooring before you even install it, so avoid bringing the flooring into the installation space until the concrete is dry. Unpack the flooring and spread it around the room to acclimate. Flooring usually takes three to five days to acclimate, but the real test of acclimation is when its moisture content -- as measured by a meter -- has fallen to within 4 percent of that of the subfloor. Normal room temperature and humidity conditions must be maintained for the entire acclimation period.
Part 3: Installation Procedures
Nail Method
Installing hardwood flooring on a plywood-covered slab is identical to installing it on a wood subfloor; you simply nail the boards with a flooring nailer. It's best to use shorter cleats than you would for a wood floor to ensure they sink in all the way.
Glue Method
If you opt to glue the flooring directly to the subfloor, use a mastic specifically recommended by the flooring manufacturer. In this potentially messy procedure, you spread the mastic with a notched trowel, lay the boards in it and tap them together with a mallet.
Tip
You should only consider gluing down engineered boards -- solid hardwood boards have warps and irregularities that make it difficult to fit them together tightly without nailing them.