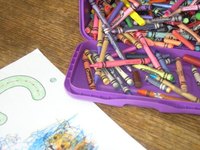 Do you want to publish a coloring book? Coloring book publishers are always on the look out for new book ideas. Follow these steps to get your coloring book published. You can learn about color book publishing today.
Decide what the book's theme is. Gone are the days when coloring book publishers invest in a random compilation of drawings. Today's coloring books are themed. For example, Dover Publishing specializes in educational coloring books, with lined sketches of "Georgia Wildflowers" and "Ancient Egypt."
Begin to compile simple lined drawings for the coloring book. You can save these in a file folder. Eventually, though, they'll need to be digitized. Your color book publisher will likely want them in a specific format so scanning them ahead of time might not be as important as you'd think.
Scour lists of publishers until you have a list of those who specialize in publishing coloring books.
Examine their recent list of published titles and highlight those who have already published a coloring book like yours. You might not want to query those publishers, since they've already covered the topic. However, if they specialize in the topic then they might be a perfect fit.
Request their submission guidelines. Some publishers will want to see samples of your work, others will only want a query letter, while still others prefer to review completed manuscripts.
Develop a picture of how popular your coloring book will be. If you have reason to believe the market for your coloring book is growing or if you know that similar coloring books have been successful then you'll want to include that information in your query letter.
Write a query letter. It isn't enough to simply show your pictures to a publisher. You need to "sell them" the idea first.
Consider hiring a literary agent or other professional representative to help you negotiate your publishing contract. They will make sure your best interest is protected during the course of publishing, distribution and reprinting.
Look into self-publishing if you can't find a publisher or if you're interested in distributing your own product. Often, with a self-published book, a writer can make more money on each book sold, but often has to be the one selling them. If you can afford the initial printing and don't mind distributing the book yourself, then self-publishing a coloring book might be a viable option.