Things You'll Need
Fruit juices of your choice

Fizzy beverages, such as lemon-lime soda, tonic or ginger ale

Garnishes, such as paper umbrellas, colorful straws, maraschino cherries or fruit wedges

Various cocktail glasses, such as martini or highball glasses

Ice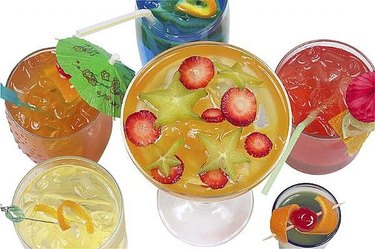 How to Make Mocktails. When you plan your next get-together, don't forget about your friends who don't drink alcohol. Mocktails, simply cocktails without the alcohol, are a delicious and safe alternative to alcoholic beverages and are suitable for partygoers of all ages. Consider having a family-friendly party and provide some fun and festive mocktails for everyone to enjoy.
Step 1
Stock up on fruit juices, which are the base for many mocktails. Orange juice, lime juice or cranberry juice are great ways to start out a refreshing mocktail. Tropical mocktails are delicious with blended juice drinks such as peach-cranberry, or for more exotic drinks, try blends such as banana-mango. For a mocktail with real zing, try some lemonade or grapefruit juice.
Step 2
Make fizzy drinks by adding some ginger ale, tonic water, club soda or lemon-lime soda. Try mixing them with different combinations of fruit juices for a mocktail cooler.
Step 3
Buy a small bottle of grenadine syrup if you want to make mock cocktails such as a tequila sunrise, Singapore sling or pink lady. Grenadine will add sweetness to your mocktails, along with a rosy red glow to orange or pineapple juice blends.
Step 4
Make a tomato-juice-based mocktail that imitates the Bloody Mary by simply leaving the alcohol out. Put the tomato juice, lemon juice, Worcestershire sauce and other ingredients in a highball glass with plenty of ice, and you've created a Virgin Mary.
Step 5
Garnish your glasses for a festive finishing touch. Plastic toothpicks skewered with pineapples or cherries, colorful straws, tiny umbrellas or even just slices of lemon, orange or kiwi will finish your mocktails in style.
Tip
Make sure you have plenty of ice on hand. You can use cubes, but for many mocktails, crushed ice is best. Just put some ice cubes in a heavy plastic bag, put a towel over it to provide cushioning and use a small hammer to crush the ice. For a baby shower, try serving mocktails with a base of pink lemonade for a delicious and healthy drink.