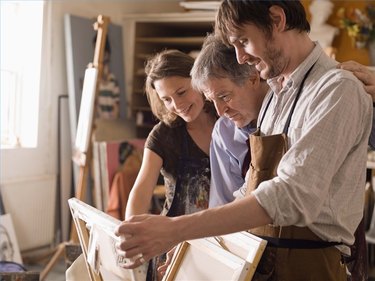 How to Start an Artist Collective. An artist collective is a group of artists who work together to achieve a common goal. The common goal is what defines the collective. It can be anything from sharing studio space the cost of materials, to working collectively to inspire socio-political awareness in the community through exhibits and gallery openings. In an artist collective of any type, equally sharing ownership, status, expenses and risks is expected. Read on to learn more.
Step 1
Network with other artists before starting an artist collective. Informal socializing and brainstorming ideas with friends and colleagues is one way many artists start collectives. If you have an idea of what kind of artist collective you want to start, talk with friends, relatives, teachers and others who you trust and ask them if they or anyone they know are interested.
Step 2
Advertise the idea of starting an artist collective at your studio, at your friend's studio space, at local art schools, at other galleries, at coffee shops and at art stores. If you have a website, post an advertisement there as well.
Step 3
Talk with other people who have started artist collectives. Ask for tips about how to get started. Ask what community resources are available to you.
Step 4
Visit local artist non-profit organizations. Non-profits generally have extensive contact lists and know how to get the word out. Run your idea by them and see if they can help or if they know of any resources you have not yet discovered.
Step 5
Join local arts groups or visit online resources that list collectives and guilds such as Artchain.com at Artists-guild.com.