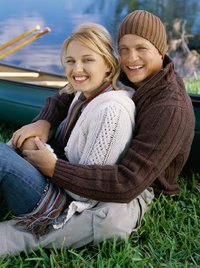 Both wool and cashmere sweaters can be cared for in the same way. Wool is the fiber from a sheep, and cashmere is the fiber from an angora goat. Both fibers need to be hand-washed so that they don't felt or shrink. Proper washing and care will ensure that your sweater will last a lifetime; a high quality wool or cashmere pullover or cardigan is a classic item that can be worn season after season.
Things You'll Need
Laundering
Fill a sink or washing machine with cool water. Add a quarter cup of wool wash.
Add the wool sweater. Multiple sweaters can be washed at the same time if they are in the same color family.
Leave the washing machine lid up and soak the sweater for at least an hour. Set the washing machine on the spin cycle to remove the water.
Remove the sweater. Spread a towel on a spare bed or table, and lay the sweater on the towel to dry. Store or wear the sweater when it has dried.
Storing
Fold the sweater for storage.
Place the sweater in a cool, dry place away from direct sunlight.
Add cedar blocks or chips to discourage pests.