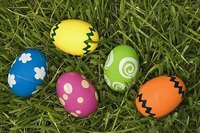 How to Organize an Easter Egg Hunt. Turn an ordinary Easter egg hunt into a festive spring affair. With the right decorations and food, you can make it a hunt they'll never forget!
Things You'll Need
Plastic Eggs
Easter CDs
Paper cups
Plastic Tablecloths
Beads
Punch
Chocolate Easter Eggs
Easter Basket Stuffers
Cookies
Napkins
Disposable Plates
Easter Baskets
Easter Decorations
Easter Candies
Construction Paper
Send out colorful construction paper cutouts in the shape of ducks and rabbits as invitations to the hunt.
Fill plastic eggs with small toys, jellybeans, coins, stickers, beads, stamps, key chains and candies. Estimate about a dozen eggs per guest.
Decorate nearby tables with pastel-colored tablecloth and streamers.
Stock the tables with punch and snacks for hungry hunters.
Set up the playing area according to age groups, either dividing the area by age group and marking the boundaries clearly, or by color coding eggs (for example, blue and green ones for the older kids, yellow and pink for younger kids).
Hide eggs based on the age group. Go easy on the younger ones, leaving eggs on low branches and open places.
Station supervising adults in designated areas of the hunting site at the beginning of the game.
Start the game off with a whistle, and let the hunt begin!