It's quarter to five in the evening. The house is a mess, the kids are getting hangry, and you still don't have dinner started. What in the world do you make? One pot creamy tomato basil chicken pasta, of course! Sounds fancy, but it is incredibly easy to make. And it's all done in one pan in under 30 minutes! That means it's also a quick and simple cleanup, and everyone's bellies will be full and happy in a flash. This recipe is guaranteed to be a staple in your house from now on.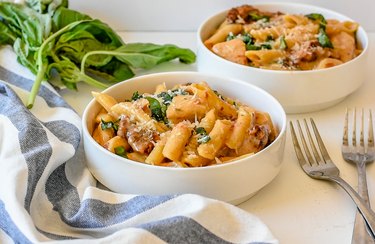 Things You'll Need
Step 1: Cook the chicken
Heat butter and garlic in a large skillet over medium heat. Add the chicken and cook until just browned. Stir in broth, chicken seasoning, pasta,and sun-dried tomatoes. Increase heat to medium high and bring to a boil. Cover and reduce to medium low heat. Cook 10-15 minutes until pasta is al dente.
Step 2: Add dairy ingredients
Add in heavy cream, whole milk, and mozzarella cheese. Stir until the sauce is smooth and bubbly and the cheese is melted. If the pasta needs to cook longer, cover and simmer on medium heat for another five minutes.
Step 3: Top with basil and serve
Stir in chopped basil. Dish onto plates, top with freshly grated parmesan cheese, if desired.