Your guests will do a double take when you tell them what this "sushi" is made of because there's no fish in sight. Instead, three kinds of candy sushi come together in just a few simple steps, starting with basic rice cereal treats.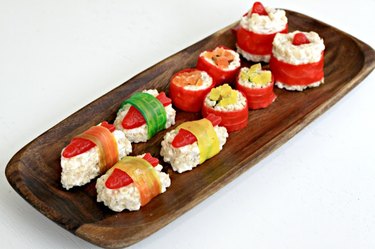 To make the entire platter above, you'll need the following ingredients.
Things You'll Need
10 ounces marshmallows (miniature or regular size)

4 cups crispy rice cereal

2 tablespoons butter

Gummy worms

Swedish fish

Fruit strips such as Fruit by the Foot

Licorice

Assorted gummy fruit candies
Step 1: Prep the Rice Cereal Treats
In a very large mixing bowl, combine butter and marshmallows. Microwave for 2 minutes until the marshmallows are fluffy and melted. Immediately add rice cereal and mix.
Butter a small casserole dish (9x9 inches is perfect) and press half of your rice and marshmallow mixture into a square, about 2 inches thick.
Reserve the other half of your rice and marshmallow mixture in the bowl.
Tip
This mixture will be very sticky. Spray your hands with non-stick oil and the rice will be easier to work with.
Step 2: How to Make "Hosomaki" Candy Sushi Rolls
Start with a sheet of waxed paper. Flatten out a handful of the rice and marshmallow mixture from the bowl and line up 3 gummy worms on one side.
Tip
Hosomaki is generally a sushi roll wrapped in seaweed on the outside.
Use the wax paper to guide the rice up and over the gummy worms.
Press down with both of your hands as you roll, slowly and carefully.
Peel back the wax paper and use your fingertips to press together any part of the roll with gaps.
Slide your fruit strips underneath the roll and wrap it around one end.
Slice the end of your roll, just at the edge of the fruit strip.
Tip
A serrated knife works best for slicing.
Cut or tear off the end of your fruit strip.
To add "roe," dice up a gummy fruit.
Roll the candy pieces in your fingers and add to the top.
Step 3: How to Make "Futomaki" Large Candy Sushi Rolls
Remove the rice and marshmallow mixture from the 9x9 pan, setting it on a sheet of wax paper. Use a knife to cut a strip about 3 inches by 1 1/2 inches.
Roll a Swedish fish into the rice, using the wax paper as a guide.
Tip
Futomaki is literally translated to "fat rolled sushi".
The fish should be poking up at the top. Use your fingers to press the edges together so they stick firmly.
Wrap a fruit strip around the whole roll and cut or tear off the excess.
Step 4: How to Make Candy Nigiri
Using the flattened rice and marshmallow mixture from the pan, measure a piece about as big as one Swedish fish and cut. Then trim corners to follow the shape of the fish.
Tip
Nigiri usually refers to a piece of raw fish served over a small mound of rice.
Wrap with a fruit strip, and either cut or tear the excess.
This dessert also doubles as an activity: Set out all the ingredients and let guests make their own!