This perfect Dutch baby pancake, served with fresh strawberries, white chocolate truffles and mascarpone cream, makes for the most delicious and easy weekend brunch! It's so quick that the prep comes together in less than five minutes! All you have to do is blitz the batter together in a blender and bake! It couldn't be simpler. Get the recipe below!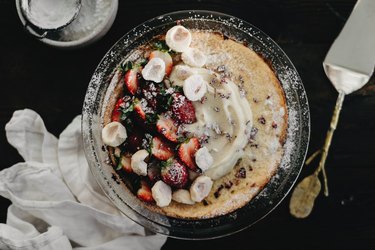 Watch the video
Things You'll Need
1 tablespoon unsalted butter

3 large eggs

5.25 ounces (155 millilitres) buttermilk

2.8 ounces (80 grams) all-purpose flour

2 tablespoons granulated sugar

2.1 ounces (60 grams) unsalted butter, melted

1 teaspoon vanilla bean extract

1/2 teaspoon kosher salt

5.3 ounces (150 grams) mascarpone

2.6 ounces (75 grams) powdered sugar (plus extra for final dusting)

1/2 teaspoon vanilla bean extract

5.3 ounces (150 grams) fresh strawberries, sliced

To decorate (optional): white chocolate truffles, edible rose petals, cacao nibs, white chocolate shavings, bee pollen, lemon zest etc.
Step 1: Make the pancake
Pre-heat the oven to 350 Fahrenheit (180 Celsius). Place 1 tablespoon of the unsalted butter in the bottom of 9-inch (23-centimeter) baking dish or skillet. Place the dish in the oven and heat until the butter is melted and bubbling.
Meanwhile, in the bowl of a food processor or blender, combine the eggs, buttermilk, all-purpose flour, granulated sugar, melted butter, 1 teaspoon of vanilla bean extract and salt. Blitz on high speed until the batter is just combined, foamy and runny, about 2 minutes.
Carefully remove the baking dish with the melted butter from the oven. Pour the pancake batter into the baking dish.
Bake, for 15 to 18 minutes, or until the Dutch baby pancake is golden brown and has puffed up around the edges.
Step 2: Make the mascarpone cream
In a small bowl, combine the mascarpone, powdered sugar and 1/2 teaspoon of vanilla bean extract. Whisk until smooth and combined.
Step 3: Decorate
Dust the top of the Dutch baby pancake with a generous amount of extra powdered sugar.
Top the Dutch baby pancake with a slather of the mascarpone cream and the sliced strawberries. You can decorate it however you desire too! Here, we added a handful of shaved white chocolate truffles, a sprinkle of edible rose petals and a pretty pink flower!
Step 4: Slice and serve
This perfect Dutch baby pancake is best served warm, straight from the oven.