Crab cakes are a classic entree, but have you ever tried stuffing them into shells? It's a fun twist with a beautiful presentation. In addition to looking great, the final dish gets a bit of an added flavor boost from being cooked in the shell. This recipe comes together in no time, and it's sure to be a crowd pleaser with seafood lovers!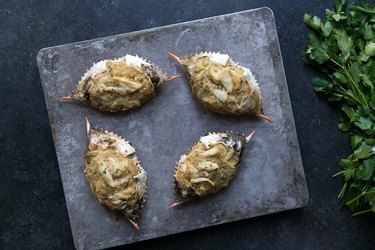 Things You'll Need
4 large or 6 medium blue or Dungeness crab shells, scrubbed clean (see note in Step 1)


16 ounces lump crab meat, picked through for shells


1 large egg


1/2 cup mayonnaise


1/2 cup Italian bread crumbs


1 teaspoon Old Bay Seasoning


1/4 teaspoon fines herbs


1/4 teaspoon onion powder


1/4 teaspoon garlic powder


1 tablespoon chopped fresh Italian parsley


1 to 2 tablespoons unsalted butter

Step 1: Gather Your Ingredients
With regards to acquiring shells, you have several options. You can steam fresh crabs for this recipe and pick out the meat, you can see if your local seafood market has fresh leftover shells, or you can save the shells after dining out (this is a common practice for those who enjoy preparing homemade stock). If you choose to steam fresh crabs, there won't be enough crab meat from 4 to 6 crabs to prepare this recipe, and the amount of meat in each crab can vary depending on numerous factors. You'll likely still need to purchase around 8 ounces of crab meat. Make sure to clean the shells as thoroughly as possible, removing any cartilage, antennae, and loose pieces of shell.
Tip
If you get the shells from a seafood market, I recommend boiling them for 10 to 15 minutes to sanitize them. Also, if you don't plan to use the shells immediately, clean them, place in a resealable plastic bag and freeze. They can be used directly out of the freezer without thawing. If any of the shells happen to stick together in the freezer, briefly run them under lukewarm water to separate.
Step 2: Whisk Together Egg and Mayonnaise
Preheat the oven to 375 degrees Fahrenheit and line a sheet tray with foil. In a medium-sized bowl, whisk the egg and then whisk in the mayonnaise until smooth.
Step 3: Add Remaining Ingredients
Switch to a spatula or spoon and stir in the bread crumbs, Old Bay, fines herbs, onion powder, garlic powder, and parsley. The mixture will thicken as the bread crumbs absorb the liquid.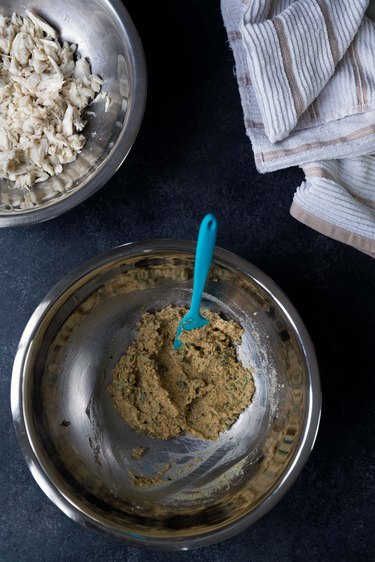 Step 4: Carefully Fold Wet Ingredients Into Crab Meat
Place the crab meat in a separate bowl and gently fold in the wet mixture, a little bit at a time, taking care not to break up any lumps.
Step 5: Stuff the Crab Shells
Stuff the meat into the crab shells. If you wind up with extra crab meat, you can form a crab cake. Top each stuffed crab with a small square of butter.
Step 6: Bake
Bake for 25 to 30 minutes, until cooked through. Optionally, you can brown the top slightly by switching on the broiler to "high" for the last 1 to 2 minutes. Keep an eye on the crabs if you do this to make sure they don't burn. Serve immediately.