I went through a long phase of being obsessed with vegan food. Maybe it was my love of produce, or the idea of being fueled by plants. I never gave up meat all together, I just grew a love for food made up of produce. Chili was always a great recipe to go to on a cold night. It's warm, hearty, and satisfying. Busting the myth that vegans only eat salad. This and a cold beer could convince just about anyone that they could, in fact, be very happy eating a vegan based diet.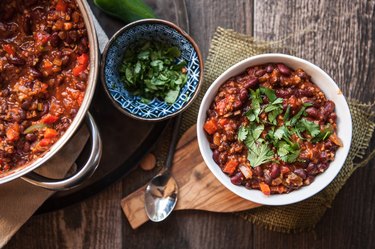 Things You'll Need
1 tablespoon olive oil

1 cup diced yellow onion

1 cup diced carrots

1 red bell pepper, diced

1 jalapeños, chopped

8 wt ounces mushrooms, finely chopped


3 cloves garlic

28 ounce can crushed tomatoes, (1)

15 ounce can black beans, (1)

15 ounce cans kidney beans, (2)


1 cup vegetable broth

1/2 cup bulgar

1

teaspoon chili powder

2 teaspoons cumin

1 teaspoon salt

1/2 teaspoon smoked paprika

1/4 cup chopped cilantro

Step 1: Sweat the Onions
Heat the olive oil in a large pot over medium high heat. Add the onions, cooking until starting to soften and brown, about 5 minutes.
Step 2: Add the Peppers and Carrot
Add the bell pepper, jalapeño and carrots, cook until the vegetables have softened, about 8 minutes.
Step 3: Cook the Mushrooms
Add the mushrooms, cooking until darkened and softened, about 8 minutes.
Step 4: Add the Remaining Ingredients
Add the rest of the ingredients (except the cilantro), allowing to gently simmer until the bulgar has softened, about 15 minutes. Ladle into bowls, top with cilantro.