"Parenting teenagers is easy," said no one ever. The transition from child to teen can be tumultuous, for a child and for a parent. When your daughter hits those pesky growing years and is looking to shed her childhood interests, consider turning her bedroom into a sanctuary. Participating in creative and constructive projects together can be a great way to foster memories, while her new grown-up space can help give her the privacy she craves. From walls to windows, these decorative projects will turn that kiddie bedroom into a teenage retreat, and maybe it will help her realize that you're not actually ruining her life — even though she may say otherwise sometimes.
Hang Curtains That are to Dye For
Nothing creates a statement like a snazzy window dressing, and what better way to bring color into a room than with a fresh dye job! These two-toned curtains will take her windows from boring to bold with just a large bucket, her dye color of choice and a stick to stir.
Wake Up to a Gorgeous Woodsy Wall Hanging
Create a natural three-dimensional art piece with this wooden wall hanging made from rustic materials you can find at the local wilderness park. With your imagination, a little paint and a simple template, you will have an art piece lovely enough to hang in a corner.
Transform a Boring Table Into a Modern Classic
Along with the emotional and physical changes happening to your teen, there is a huge increase in school work, too. Make homework a joy (or at least easier to do) with this mid-century twist on an Ikea table. This work space combines class and simplicity to create a chic place to study every night.
Turn a Gorgeous Rug Into a Better Bench
A bench in your teen's bedroom can be a great place to put on socks and shoes, or provide extra seating when she has friends over. It even can make an artistic statement, especially when you re-purpose a beautiful Kilim rug to bring in color and design. Match the bench to a pillow on her bed to complete the on-trend look.
Make a Nightstand Go From Bland to Hollywood Glam
There are so many Ikea hacks out there, but this is one of the best. Turn a basic (and inexpensive) Ikea nightstand into something glamorous that she'll always appreciate. Consider using the same technique on a plain headboard to create the look of a matching furniture set, too.
Turn On a Not-So-Typical Bedside Lamp
If a regular old bedside lamp induces some epic teenage eye rolls, try adding some flare with this wood and glass lamp. All it takes is a quick trip to the hardware store and some elbow grease to assemble, and she'll have a light fixture that's totally original.
Create a Fabulous Feather Garland
This feather garland makes the perfect adornment for the space above a bed or doorway. The eye-catching glitter and the peaceful way the feathers flutter make this garland a unique and enviable piece. No one has to know how easy it was to construct!
Get Cozy With a Soft Padded Headboard
Reading in bed can become a nightly habit thanks to this padded headboard. It's so easy to customize with her favorite colors, and shouldn't take longer than a Saturday afternoon to complete. When you're finished, the bed will rightly be the centerpiece of the room.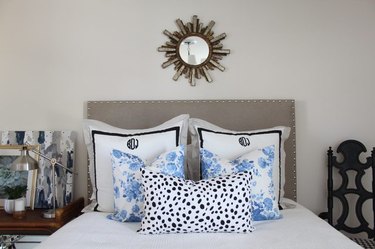 Make Your Mark With a Leather Monogram
Nothing claims a space like putting your name on it, or at least your first initial. Everyone will know which room is hers with this lovely leather letter monogram. Wrap the first letter of your daughter's name in leather, and add a nailhead trim with wire-cutting pliers. When you're finished, place the piece on a bookshelf.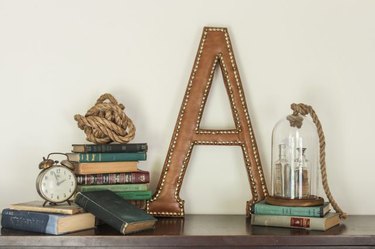 Free Up Space With Floating Shelves
And speaking of shelving, these floating shelves can perfectly showcase your teen's favorite pictures, trophies and personal touches. By creating a space for her things that'll be far less bulky than a bookcase, you can help reduce clutter and maybe, just maybe, keep everything tidy.
Provide the Perfect Place to Hang
When wet towels, extra blankets and clothes seem to always find themselves in piles, a bamboo ladder like this one is just the thing to help you keep your cool. Fashion large bamboo poles and sticks into a cascading design, and you and your daughter will have completed a project that will keep the peace over what "clean" means.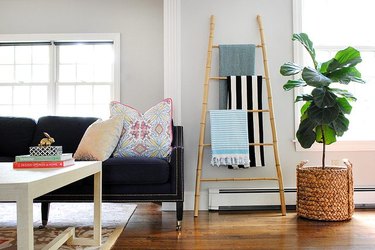 Look Like a Star in a Sunburst Mirror
A bright sunburst mirror is perfect for that last glance before heading off to school. Adding a mirror to your daughter's bedroom can bring light to her space, and act as a fun decoration that she'll want to keep as she gets older. This piece won't go out of style!
Glow Softly With a Beaded Chandelier
This playful beaded chandelier project makes it easy to choose a ceiling light that is dramatic and cozy at the same time. Position it above her bed to complete the renovation, and she'll have a refreshed bedroom that will weather any teenage storm.