If you're a bettin' man (or woman), I've got a good one for you. Make a bet that you can make an ice cream so good, no one will be able to tell that it's vegan. Because the thing about this ice cream is that it's so creamy and full of flavor, it's hard to even understand how there isn't a trace of dairy in it. So, I guess that makes it a bit more healthy than the other types, but that isn't the point. It's incredibly easy, and incredibly delicious and it's just a bonus that it's also slightly on the healthy side. It's also a bonus that you just won your bet.
Tip
Ice cream is creamiest when it's able to get to a frozen state as quickly as possible. Making your ice cream base the night before you churn it helps to chill it thoroughly and give you the creamiest results!
Things You'll Need
13.5 oz cans of full fat coconut milk, (2)


1 1/4 cups granulated sugar

1/2 cup unsweetened cocoa powder

1 teaspoon espresso powder

1/2 teaspoon salt
Step 1: Gently Simmer
Add all ingredients to a pot over medium-high heat and bring to a low simmer, stirring frequently, until well combined and slightly thickened, about 8 minutes.
Step 2: Chill
Add the ice cream base to a container and refrigerate until chilled, at least three hours and up to three days (overnight preferable).
Step 3: Churn
Add the base to your ice cream maker and churn according to the manufacturer's specifications.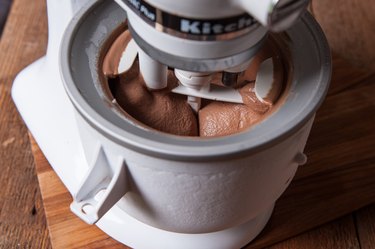 Step 4: Freeze
Add to a freezer safe container, cover and freeze until hardened, at least 3 hours.
Your vegan ice cream is now ready to be dished out and enjoyed!
Tip
Not all sugar is vegan! Did you know that some sugar is processed using animal bones? Although the practice is becoming less common, it's still a concern for those looking to avoid animal products. A few vegan safe brands are: Whole Foods 365, Sugar In The Raw, C&H Organic Sugar, and Imperial Sugar. A quick web search will tell you if your favorite sugar is animal friendly.